Piper's Crag Stone
Bronze Age Carved Rock (PRAWR 212)
Addingham Moorside, West Yorkshire OS Map Ref SE086471
OS Maps - Landranger 104 (Leeds & Bradford), Explorer 297 (Lower Wharfedale & Washburn Valley)
---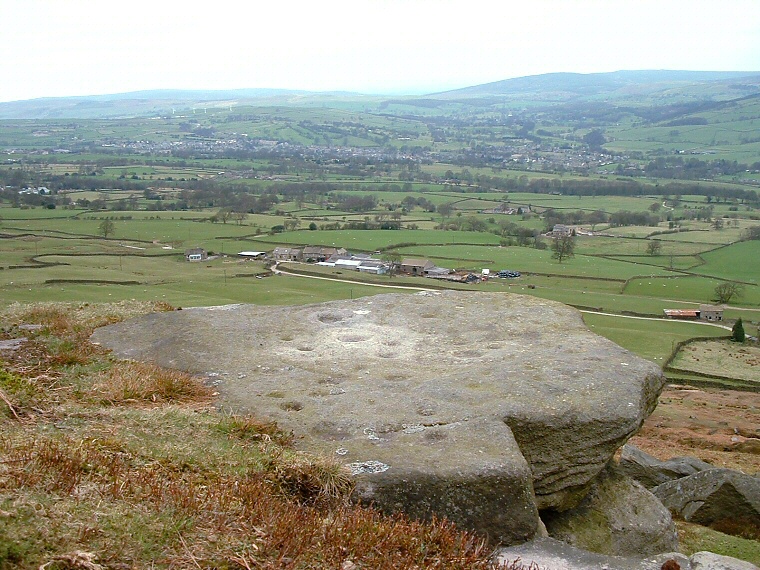 This flat
carved stone
sits on the edge of a small outcrop of rock above Hardwick Holes and close to the main track that leads east to west across the northern part of
Rombalds Moor
before the land drops away to Addingham Moorside and the River Wharf valley beyond. The photograph above shows the view looking northwest over the stone towards the village of Addingham itself.
The carvings on the slab consist of over thirty
cups
, some of which have rings with two of them having multiple rings. There are also several grooves, one encloses a pair of cups. When I visited the site part of the top of the stone looked like it had been recently scoured, which may have possibly damaged the carving.
PRAWR = Prehistoric Rock Art of the West Riding (Boughey and Vickerman 2003)
See also
Ilkley Moor & Rombald's Moor Introduction
Carvings Date:
Bronze Age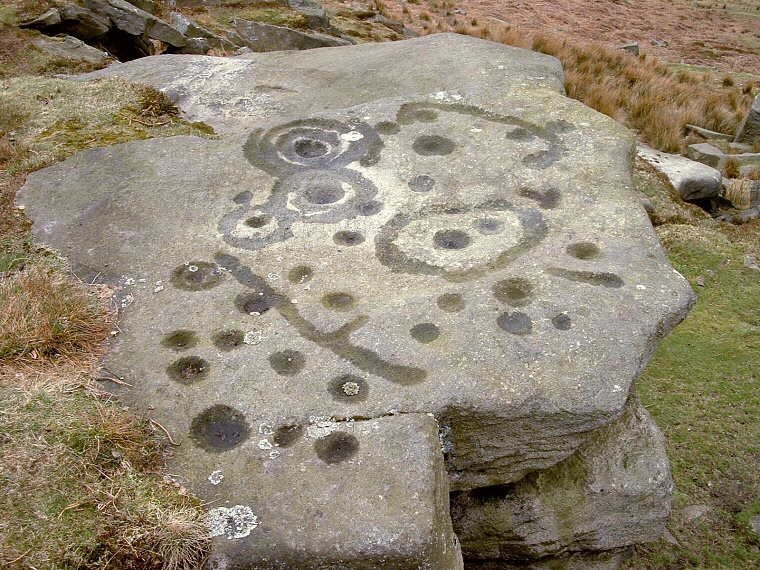 Piper's Crag Stone - Design marked with water for clarity.
Back to Map | Home | Full Glossary | Links | Email: chriscollyer@stone-circles.org.uk