Backstone Beck
Neolithic/Bronze Age/Iron Age Enclosure and Huts
Ilkley Moor, West Yorkshire OS Map Ref SE12844618
OS Maps - Landranger 104 (Leeds & Bradford), Explorer 297 (Lower Wharfedale & Washburn Valley)
---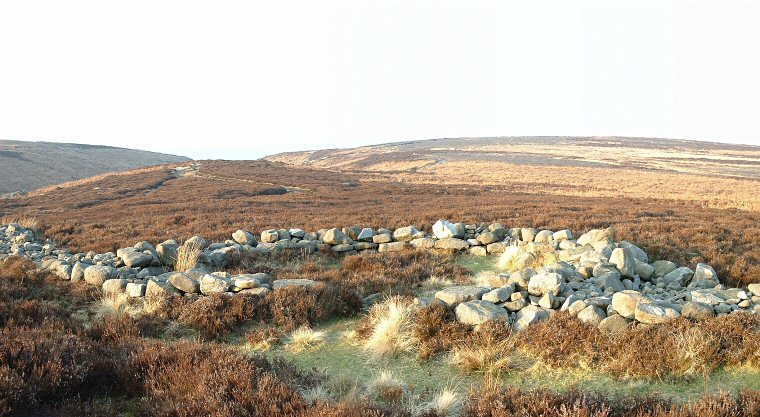 View looking north at one of the reconstructed huts. The walling extends to the east and west
This site is fairly easy to find if you follow the course of Backstone Beck after it crosses a track leading southwest from the Cow and Calf, the settlement is on the east of the beck.
It consists of 2 possible hut circles at the south end that have been somewhat restored and part of a curved low rubble wall that has also been restored by the Ilkley Archaeology Group between 1982-87. A suggested date for the earliest use of the site is around 3000BC, with the hut circles dated much later at somewhere between 800 and 500BC
There are also 3 carved rocks within the enclosure but due to the rich growth of heather around the area they can be difficult to find. See Backstone Beck Stones 1 and Second Idol Stone. On the opposite side of the stream are 2 more carved stones - see Backstone Beck Stones 2.
Glossary Items: Neolithic, Bronze Age, Iron Age.

Back to Map | Home | Full Glossary | Links | Email: chriscollyer@stone-circles.org.uk