Backstone Beck Stones 1
Bronze Age Cup and Ring Marked Rocks (PRAWR 285, 287)
Ilkley Moor, West Yorkshire OS Map Ref SE12824619 (PRAWR 285)
OS Maps - Landranger 104 (Leeds & Bradford), Explorer 297 (Lower Wharfedale & Washburn Valley)
---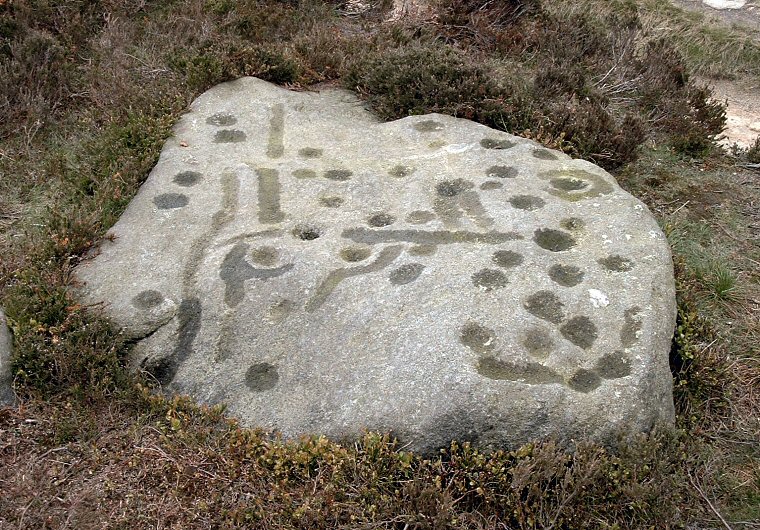 Stone 1 (PRAWR 285) marked with water for clarity
If you follow the track that leads west from the
Haystack
rock and then swing round to the south you pass the partly reconstructed
Backstone Beck Enclosure
. Between the arc of drystone walling and the path, and northwest of the hut are three
carved rocks
nestling in the undergrowth and almost in a northwest line. Due to the covering of heather on this part of the moor the stones can be difficult to find despite the fact that one stands almost next to the track.
The first stone (PRAWR 285 above) lies just to the east of the path and measures 180x130cm with around forty-five
cups
, a couple of unfinished rings or arcs and several grooves. The second stone (PRAWR 287 below) is a little further southeast, it has about a dozen cups, two of which are quite deep, and measures 170x130cm. The third stone which lies nearest to the enclosure itself is a beautifully carved rock known as the
Second Idol Stone
Date:
Bronze Age
.
See also:
Backstone Beck Stones 2
Ilkley Moor & Rombald's Moor Introduction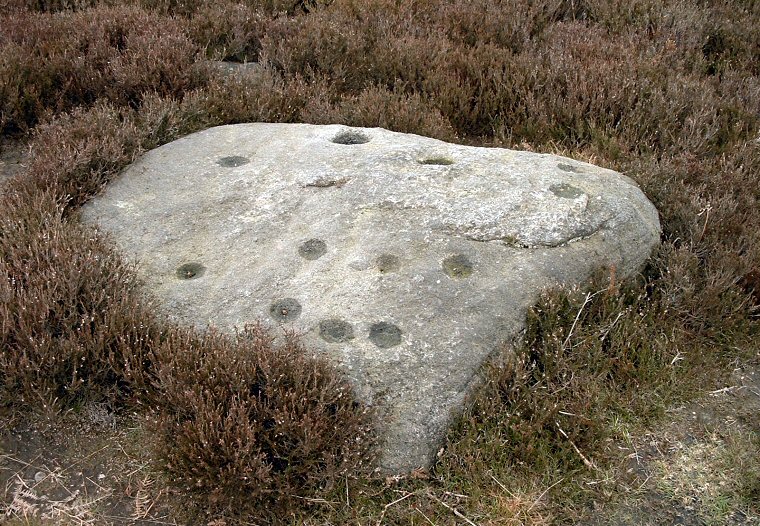 Stone 2 (PRAWR 287) marked with water


References
:
Boughey, K.J.S. and Vickerman, E.A. 2003.
Prehistoric Rock Art of the West Riding
. West Yorkshire Archaeology Service.


Back to Map | Home | Full Glossary | Links | Email: chriscollyer@stone-circles.org.uk