Great Skirtful of Stones
Bronze Age Round Cairn
Ilkley Moor, West Yorkshire OS Map Ref SE141446
OS Maps - Landranger 104 (Leeds & Bradford), Explorer 297 (Lower Wharfedale & Washburn Valley)
---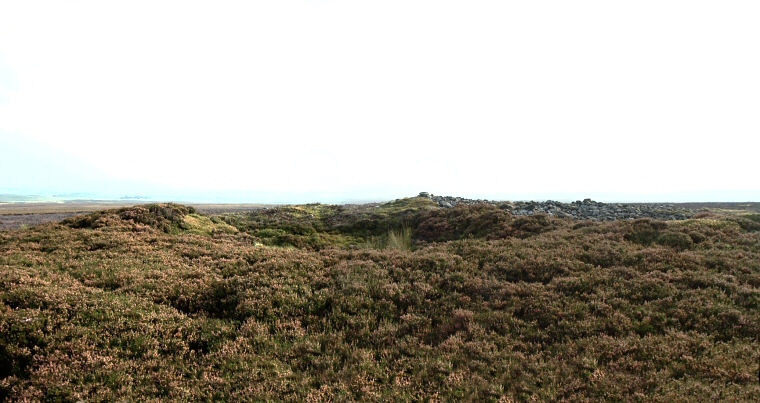 View looking across the crater of the Great Skirtful of Stones.
Just down the track from the
Grubstones
is this large badly damaged
Bronze Age
cairn
that has been heavily dug into and now has various bits of rubbish dumped into it. It is difficult to estimate its size but English Heritage state that it is about 26 metres in diameter and 1.5 metres in height. There is a large stone that could be a boundary marker or milestone that has been pitched into the middle of it and it also has what could be grouse buts built on one side although these could just be rocks thrown out from the inside. Just to the southeast there is another smaller but just as badly robbed cairn.
Directions are similar to those for the Grubstones - head in a southerly direction across the moor from the Cow and Calf carpark until you see a shed on a hillside ahead. When you get to this turn left along the track and walk for about 5 minutes or so until you pass the Lower Lanshaw damn on your left. The cairn should now be on your right hand side, not far from the track.
See also
Ilkley Moor & Rombald's Moor Introduction
Back to Map | Home | Full Glossary | Links | Email: chriscollyer@stone-circles.org.uk