Sepulchre Stone
Bronze Age Cup Marked Rock (PRAWR 214)
Addingham Moorside, West Yorkshire OS Map Ref SE091470
OS Maps - Landranger 104 (Leeds & Bradford), Explorer 297 (Lower Wharfedale & Washburn Valley)
---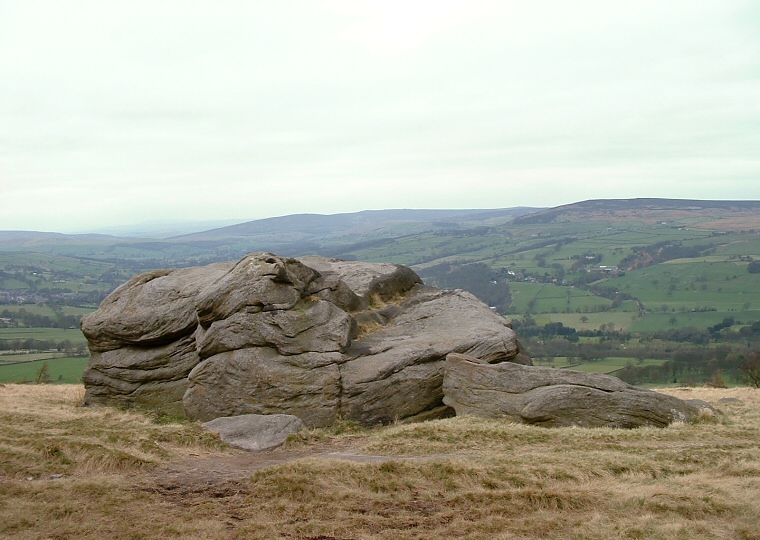 The Sepulchre Stone looking north across the Wharf Valley.
The Sepulchre Stone is a large freestanding rock that has some interesting geological folds as well as several
cups
, one with a ring, on its top surface. Because the surface of the stone is worn through years of weather erosion and from people climbing on top of it, it is difficult to tell which of the cups are natural and which are man-made.
This prominent rock stands next to the track that leads over the northern edge of
Rombald's Moor
past other
carved rocks
such as the
Swastika Stone
, the
Piper Crag Stone
and the
Anvil
.
PRAWR = Prehistoric Rock Art of the West Riding (Boughey and Vickerman 2003)
See also
Ilkley Moor & Rombald's Moor Introduction
Carvings Date:
Bronze Age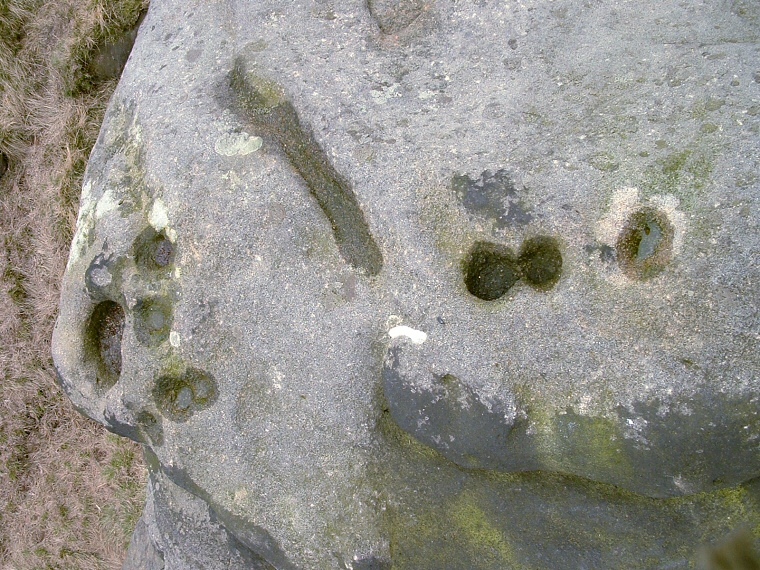 Cups and possible groove on the top of the stone.
Back to Map | Home | Full Glossary | Links | Email: chriscollyer@stone-circles.org.uk