Green Crag Slack
Bronze Age Cairns and Rock Carvings (including PRAWR 325)
Ilkley Moor, West Yorkshire OS Map Ref SE133460
OS Maps - Landranger 104 (Leeds & Bradford), Explorer 297 (Lower Wharfedale & Washburn Valley)
---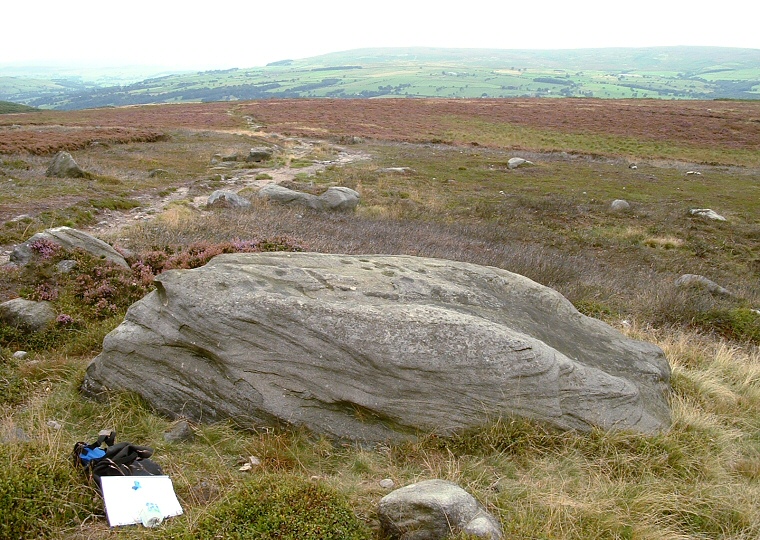 Carved rock 325 - The Idol Stone is just along the track.
Green Crag Slack is a strip of land about a mile and a half in length below Green Crag and Woofa Bank on the northeast of Rombald's Moor. There are many
carved stones
within this area including the
Idol Stone
and the
Pancake Rock
as well as the damaged remains of
cairns
and settlement or enclosure walls although most are so mutilated as to be unrecognisable.
The grid reference given at the top of the page is for the large unnamed boulder shown here (PRAWR 325). It stands next to the track that leads up to Green Crag and has several
cups
, one with a clear ring and several angular grooves although some of them may be natural.
PRAWR = Prehistoric Rock Art of the West Riding (Boughey and Vickerman 2003)
See also
Ilkley Moor & Rombald's Moor Introduction
Date:
Bronze Age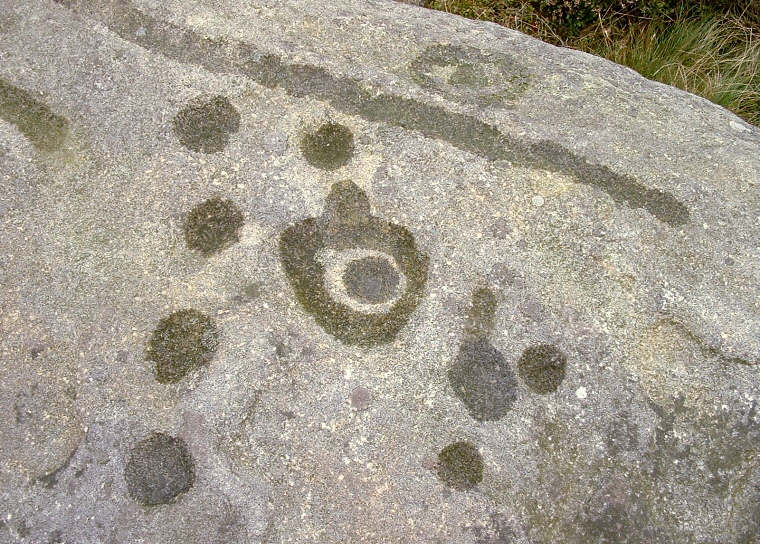 Cup, ring and groove markings on the rock - water added for clarity
Back to Map | Home | Full Glossary | Links | Email: chriscollyer@stone-circles.org.uk