Horncliffe Circle
Bronze Age Enclosure ?
Ilkley Moor, West Yorkshire OS Map Ref SE133435
OS Maps - Landranger 104 (Leeds & Bradford), Explorer 297 (Lower Wharfedale & Washburn Valley)
---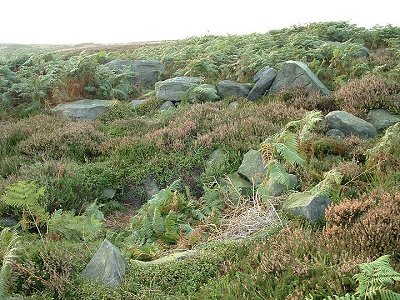 Also known as Hawksworth Moor Stone Circle, this is probably not a stone circle at all. It may be the the outer kerb of a robbed Bronze Age cairn or ring cairn although it is most likely to be some form of enclosure. It consists of a rough circle of stones - many set edge to edge, around 7 metres in diameter. Many of the stones seem to have been disturbed and their original position is now almost impossible to guess. In the centre of this chaos is a small square setting - if the structure was a cairn then this would probably have been a cremation cist, if the circle is an enclosure then it may have been a cremation hearth.
I have seen photographs taken when the undergrowth had been cleared in which the layout of the stones is very clear, however when I visited the site in the late summer the whole area was covered in a thick layer of heather and bracken, making it very difficult to find. The best directions I can give are as follows -
Directions to the circle are similar to the Grubstones - set off southwards from the Cow and Calf car-park until you see a large wooden shed in the distance. Head towards this, but veer off to the rock outcrop about 20-30 metres to the north. From here a decent track leads south past several grouse-shooting outposts to the right with a fence to your left. After about 20 minutes you will see a dip in the track and a stream a short distance ahead of you. To your left will be an old stone by the fence with the name Thos. Pulleyn engraved on it. From this point you should see a patch of bracken about 30 metres beyond the fence - the stones are hidden deep in this bracken. Walking time from the Cow and Calf is about an hour by the most direct tracks.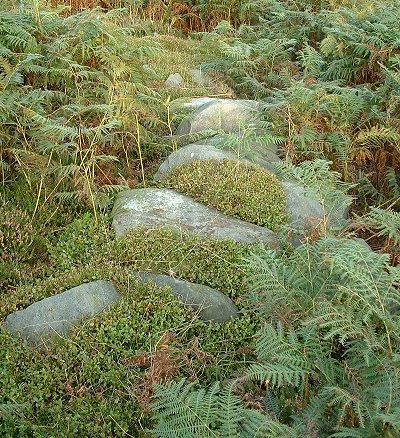 Back to Map | Home | Full Glossary | Links | Email: chriscollyer@stone-circles.org.uk