Woofa Enclosure
Bronze Age Enclosure and Rock Carvings (PRAWR 372)
Burley Moor, West Yorkshire OS Map Ref SE139455
OS Maps - Landranger 104 (Leeds & Bradford), Explorer 297 (Lower Wharfedale & Washburn Valley)
---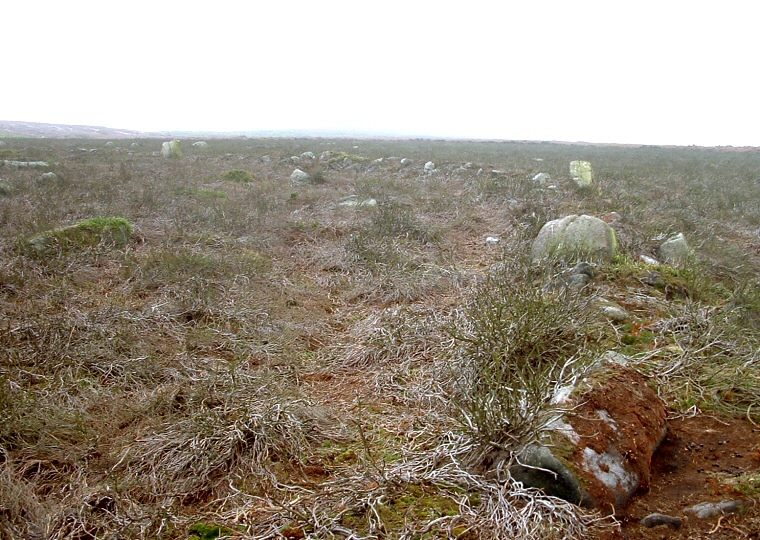 Boundary wall of the enclosure curving upwards and to the upper left of the picture.
Woofa Bank is an area to the northeast of Ilkley Moor and to the southeast of
Green Crag Slack
that has the remains of a prehistoric enclosure system on its gently north facing slope as well about a dozen
cup
marked and
carved rocks
. The enclosure is roughly oval and measures about 80 metres by 50 metres with the low walls consisting of earth and rubble as well as some larger stones which can be best seen to the north and west and although the enclosure is thought to date to the
Bronze Age
it is possible that this area was in use from as early as the
Mesolithic
era.
There are several carved stones within the enclosure and a couple more outside. The most interesting is the one shown immediately below that has cups and a series of grooves that appear to form a random pattern but it could be that they are meant to represent a map of the area. It may be that the grooves show field boundaries or stock enclosures and the cup marks could be interpreted as springs - part of the carvings on the stone are now overgrown with grass.
PRAWR = Prehistoric Rock Art of the West Riding (Boughey and Vickerman 2003)
See also
Ilkley Moor & Rombald's Moor Introduction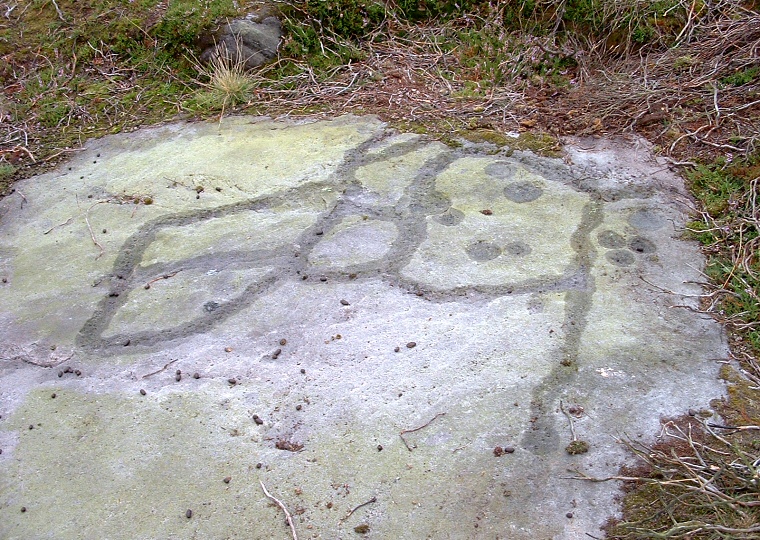 Carved stone within the enclosure (PRAWR 372) marked with water for clarity - was this a map?
Small cup marks on one of the enclosure stones.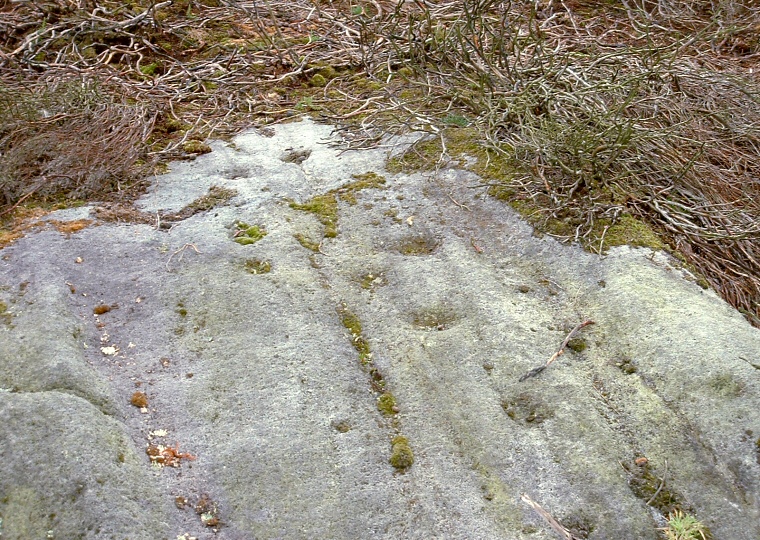 Large cups and some grooves on one of the stones.
Back to Map | Home | Full Glossary | Links | Email: chriscollyer@stone-circles.org.uk