Burgh on Bain
Neolithic Long Barrow
Southwest of Burgh on Bain, Lincolnshire OS Map TF21298497
OS Maps - Landranger 122 (Skegness & Horncastle), Explorer 282 (Lincolnshire Wolds North)
---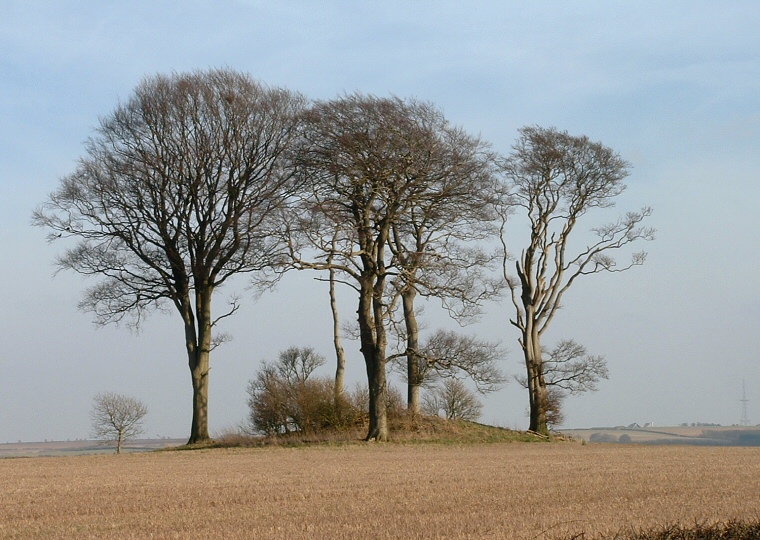 Burgh on Bain long barrow in early spring - looking southeast
Although this has long been considered a Neolithic barrow, it is not included in Dilwyn Jones's study of the long barrows of the area and is simply marked on maps as 'Tumulus'. The fact that it is one of the smallest barrow in Lincolnshire could be the cause of some of the confusion - the oval mound is only 27 metres long by 14 metres wide. Now covered with a clump of trees and badly damaged by burrowing animals it still manages to reach a height of around 2 metres.

Its position is interesting, it is situated in a near the crest of a hill above the valley of the River Bain at around 130 metres above sea-level, and is less than 100 metres from the ancient trackway of High Street. This trackway, that runs along a western spine of the Wolds, is rich in Bronze Age round barrows and indeed two still stand close-by to the south.

See also: Lincolnshire Long Barrows Introduction and site list.
Back to Map | Home | Full Glossary | Links | Email: chriscollyer@stone-circles.org.uk