Butt Hills
Bronze Age Round Barrows
Wold Newton, East Riding of Yorkshire OS Map Ref TA04517287 Elevation: 48M OSD
OS Maps - Landranger 101 (Scarborough), Explorer 301 (Scarborough, Bridlington & Flamborough Head)

---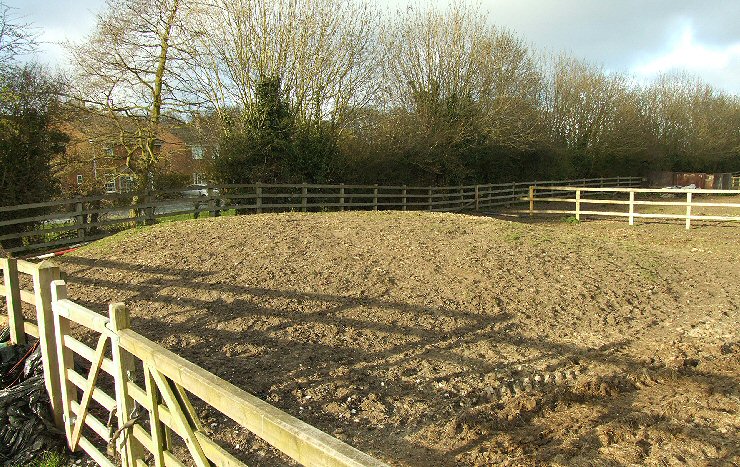 The western barrow of the pair, the other is out of shot to the right.
Hidden away behind fences and trees to the southwest of the village of Wold Newton this pair of Bronze Age round barrows are now part of a paddock used for the keeping of horses. Even though they are close to the main road through the village they seem to lay forgotten and ignored although it could be argued that as the village grew around them it helped protect them from the ravages of the plough that have done so much damage to the many other barrows in the area. The position of the barrows just 200 metres north of the Gypsey Race stream however points to them once playing an important and prominent part of the Great Wold Valley landscape - a valley holding the Gypsey Race that runs east to the sea at Bridlington and the site of much Neolithic, Bronze Age and Iron Age activity, indeed a large Neolithic round barrow is located a short distance away to the southeast of the village.
The Butt Hills barrows stand about 70 metres apart with the most easily accessible of the pair being the one to the west which measures about a metre and a half in height with a diameter of 20 metres, it is thought to have an encircling 4 metre ditch which has long since been filled with earth and is no longer visible. The second barrow is slightly larger at 2 metres tall and 22 metres in diameter and interestingly stands just 30 metres away from a pond in the centre of the village. This pond is fed from, or feeds into, a small drainage channel linking to the nearby Gypsey Race and while the pond and channel could be a fairly modern addition to Wold Newton the road leading into the south of the village (which exists on 19th century maps) detours around the channel suggesting it may have been here for some considerable time. If this is indeed an ancient spring then it may account for the location of these barrows, if any residents of the Wold Newton area know anything about the history of the pond please let me know at the email address below.
Map of the Rudston Landscape
Back to Map | Home | Full Glossary | Links | Email: chriscollyer@stone-circles.org.uk