Cae Coch
Bronze Age Standing Stone
South of Tal-y-Fan, Gwynedd. Wales OS Map Ref SH73557164
OS Maps - Landranger 115 (Snowdon), Explorer 17 (Snowdon)

---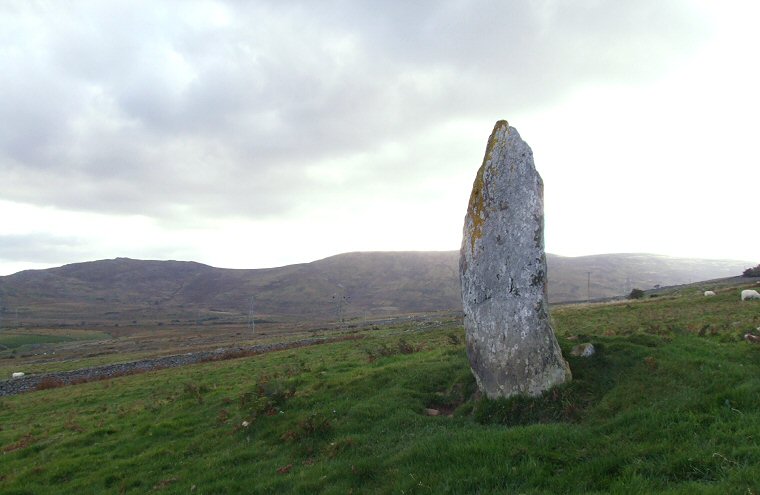 Standing stone at Cae Coch. Looking across the Tafolog valley towards Pen-y-Gaer and Penygadair.
Just to the north of a track that once formed a Roman military road between Caerhun and Caernarfon the 1.5 metre tall standing stone of Cae Coch looks out on spectacular views south across the Afon Tafolog and eastwards towards the Conwy valley.
The stone is quite broad with its long axis aligned roughly east-west and is set into a low mound as can be seen in the photograph above - the Ordnance Survey map shows it as forming part of what could be an enclosure although what this might be is not clear at the site.
Cae Coch is one of several prehistoric monuments that follow a line along the southern slopes of the hill of Tal-y-Fan that includes the standing stones at
Bwlch y Ddeufaen
in the west and the burial chambers of
Maen y Bardd
and
Rhiw
to the east as well as settlement sites, cairns and the later Roman road that utilised the same route.
Probable Date:
Bronze Age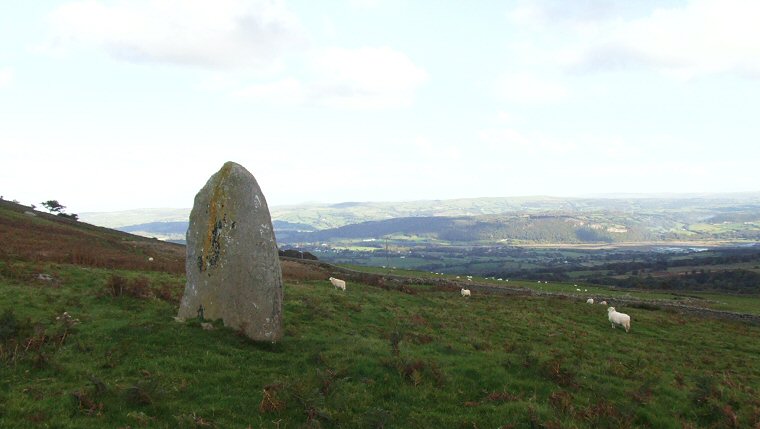 Looking east towards the River Conwy
Back to Map | Home | Full Glossary | Links | Email: chriscollyer@stone-circles.org.uk