Capel Garmon
Neolithic Chambered Long Cairn
Southeast of Betws-y-Coed, Gwynedd. Wales OS Map Ref SH81795431
OS Maps - Landranger 116 (Denbigh & Colwyn Bay), Explorer 17 (Snowdon)

---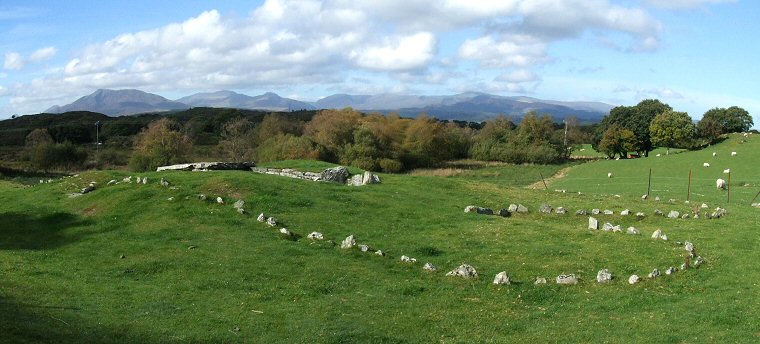 Capel Garmon chambered long cairn. Photo 1 - Looking west over the reconstructed revetment kerb and false entrance towards Snowdonia.
The chambered cairn of Capel Garmon is a North Wales show-site located in a rolling green landscape above the River Conwy and the Conwy Falls but as can be see from the photograph above there are stunning views westwards towards the hills of Snowdonia.

The site was excavated in 1925 and partly restored with a kerb of low boulders used to mark the former extent of a cairn that measured nearly 30 metres long and 15 metres wide with a blunt south-western terminal and a deep interned forecourt to the northeast.

This forecourt did not provide access to the tombs contained within the stone mound but instead formed a blocked false entrance similar to that found at Belas Knap in Gloucestershire. Capel Garmon is indeed a very similar type of 'Cotswold-Severn' chambered tomb but it stands as a very northern example of the type.

The modern entrance to the chambers is formed by a missing side slab in the south-western chamber, the result of it being used as stable in the 19th century (Photo 2 & 3). This circular chamber has the monument's only remaining capstone which is partly supported by upright slabs linked with drystone walling as well as a couple of modern concrete beams.

On the north-eastern side a gap through a pair of uprights leads to a rectangular antechamber made of more drystone walling with a small stone alcove along its northern wall and portal stones on the southeast which form the original entrance into the tomb at the end of a narrow passage that runs in from the edge of the cairn (Photo 9).

To the northeast of the antechamber a second circular chamber is lacking its capstone and is open to the elements but here the upright side slabs and drystone walling are particularly nicely restored (Photo 4 & 5).

Although Capel Garmon dates from the Neolithic finds of beaker pottery during the 20th century excavation suggest that it was still being used, or was perhaps finally sealed, towards the end of the Neolithic and early Bronze Age.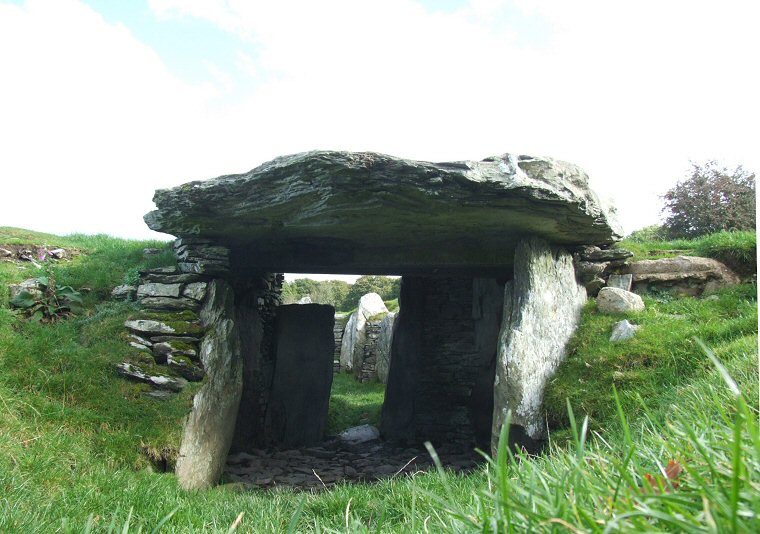 Capel Garmon Photo 2 - Modern entrance to the western chamber.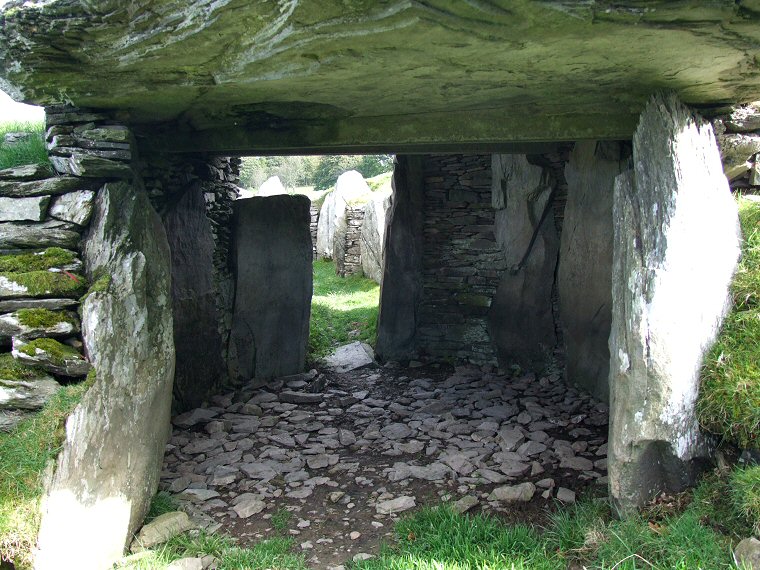 Capel Garmon Photo 3 - Western chamber, capstone partly supported by modern horizontal concrete beams.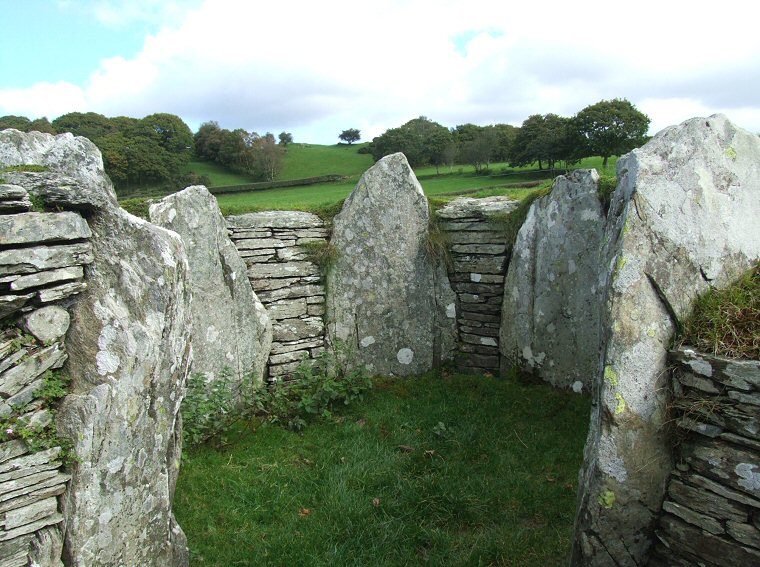 Capel Garmon Photo 4 - Eastern chamber showing much use of drystone walling.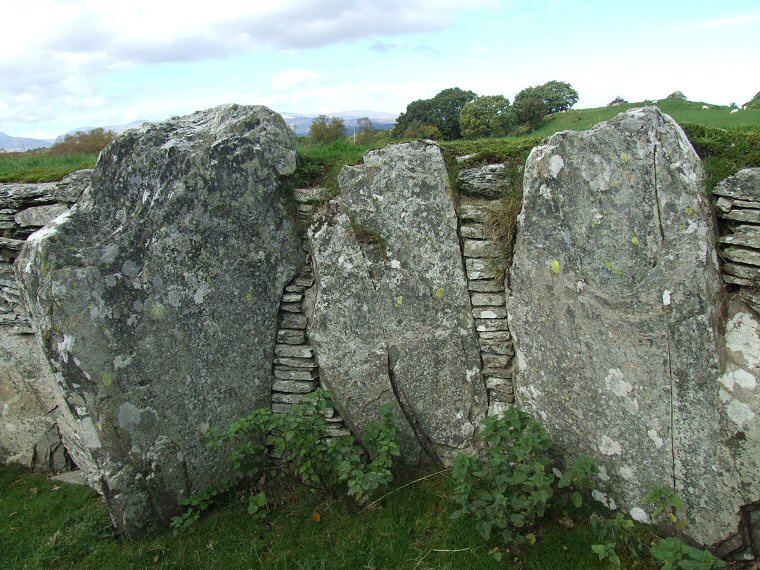 Capel Garmon Photo 5 - Another view of the eastern chamber.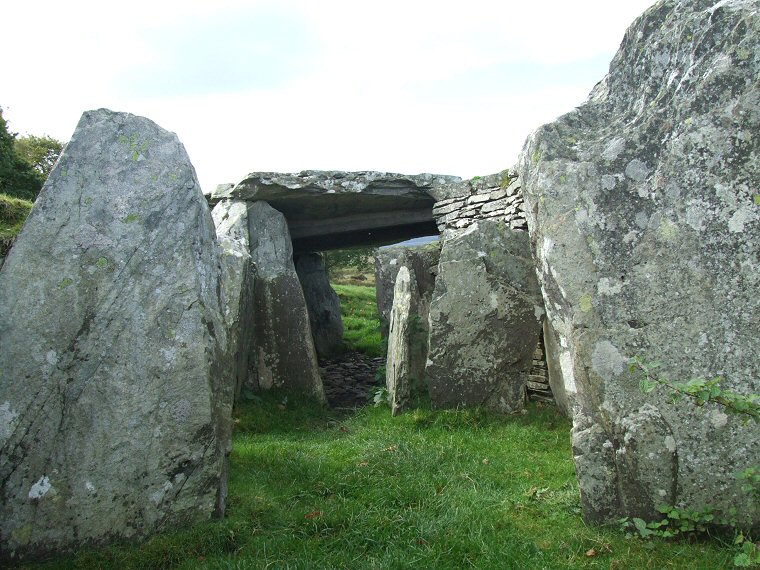 Capel Garmon Photo 6 - Looking back to the western chamber.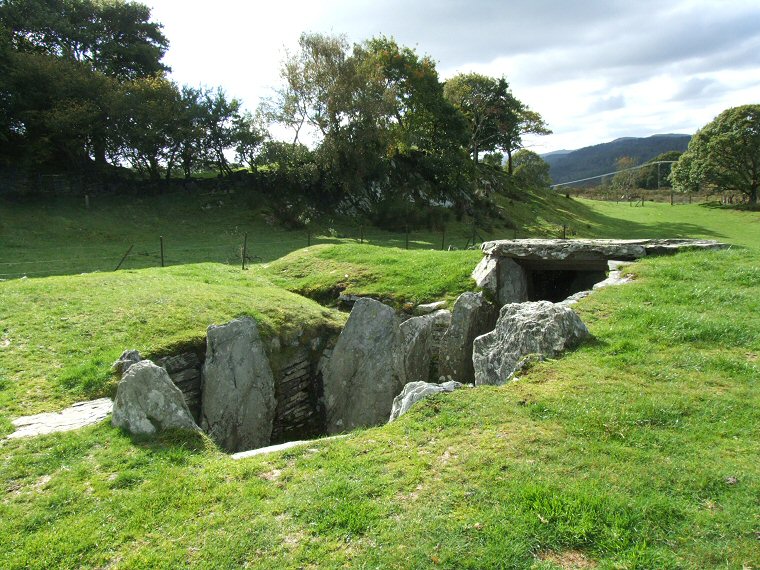 Capel Garmon Photo 7 - Looking over the eastern chamber (left), western chamber with its capstone (right) and the original entrance corridor leading into the mound from the upper left.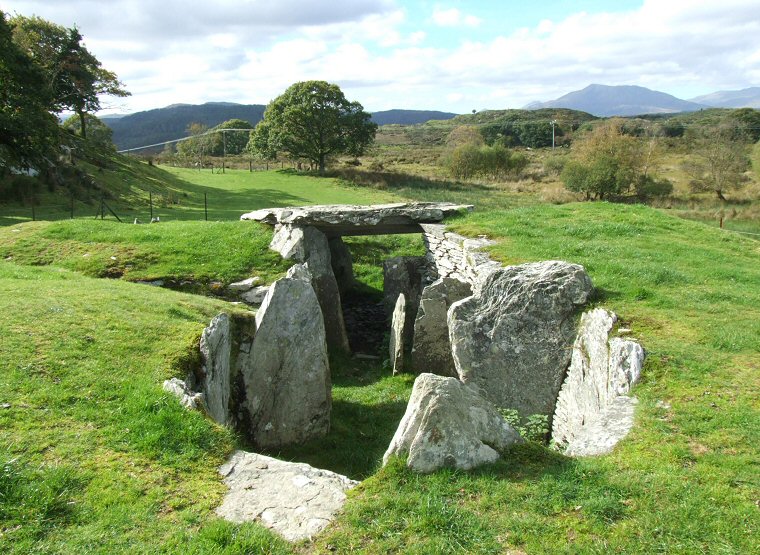 Capel Garmon Photo 8 - Looking west along the chambers, the original entrance is on the left.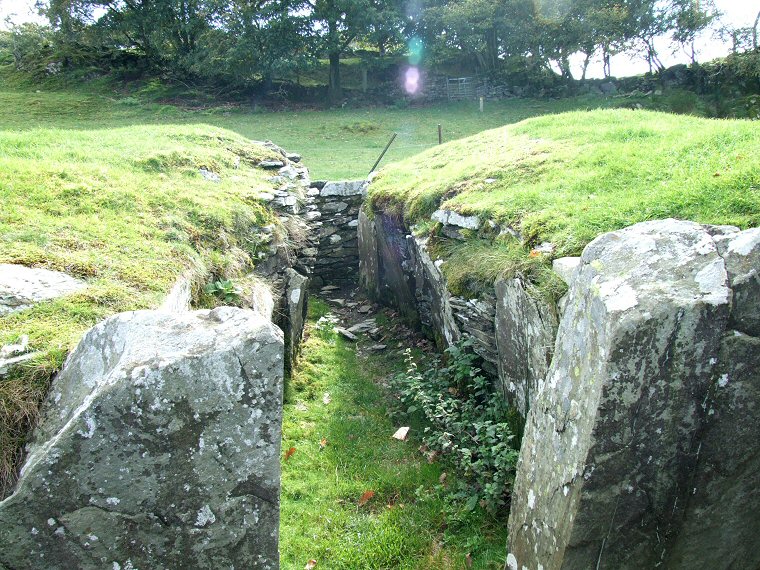 Capel Garmon Photo 9 - Looking south from the central area between the two chambers. This passage, or corridor marked the original entrance to the tomb.
Back to Map | Home | Full Glossary | Links | Email: chriscollyer@stone-circles.org.uk