Copt Howe
Neolithic / Bronze Age Rock Carving
Northwest of Chapel Stile, Cumbria OS Map Ref NY31420583
OS Maps - Landranger 90 (Penrith & Keswick), Explorer OL4 (The English Lakes: NW Area)
---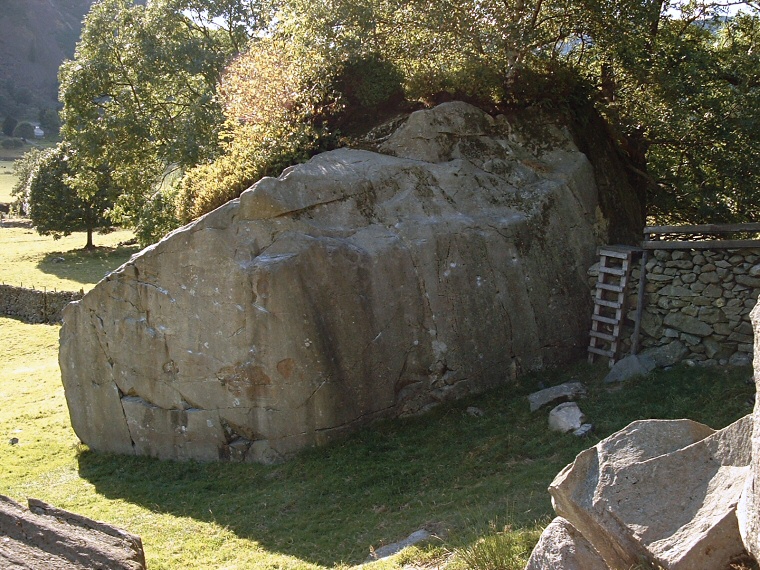 This is a large boulder of volcanic ash that stands between Great Langdale Beck and the road that leads west to the axe factory at the Pike of Stickle.

On the eastern face of the rock are a complex series of carvings that consist of several groups of concentric rings with some linear grooves and groups of micro-cups. The carvings have been shallowly picked and can be difficult to see, some have only been revealed by rubbing while others are cut by natural faults and some may just be natural marks. The diagram below shows the most prominent carvings which are best seen in the morning when sun-cast shadows help to throw the design into relief, when I visited in late afternoon the east face was in deep shadow (image above). What is amazing is that despite the fact that the boulder is popular with climbers and the whole area popular with walkers and holiday makers these late Neolithic or Bronze Age carvings were not recognised as such until as recently as 1999.

It is very probable that this site was linked in some way with the nearby axe factory, the Langdale Beck valley would have made an easy route eastwards for the transportation of the axe blanks and it could even be the case that the carvings represent a stylised map of the peaks and features of the area.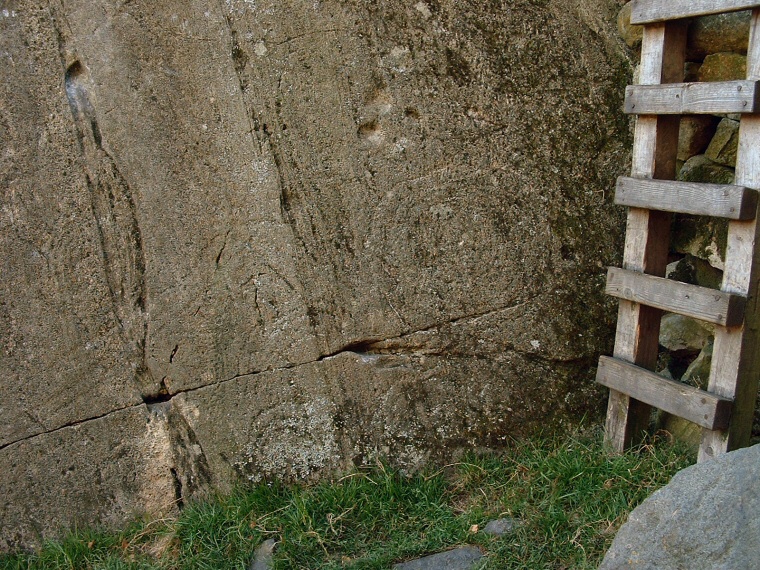 Faint carvings on the east face of the rock.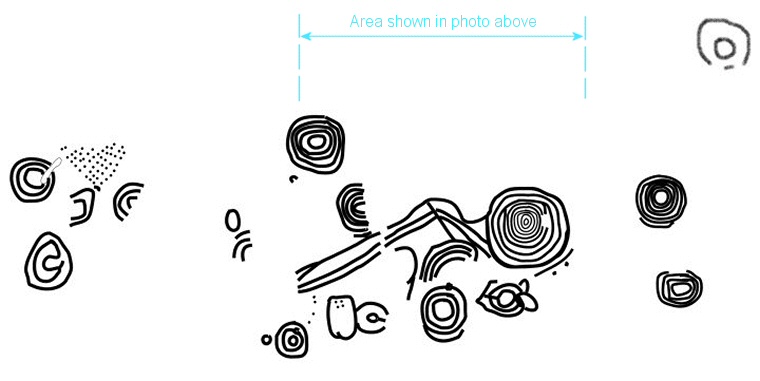 Plan of the carvings.
Back to Map | Home | Full Glossary | Links | Email: chriscollyer@stone-circles.org.uk