Pike of Stickle
Neolithic Axe Factory / Quarry
Great Langdale, Cumbria OS Map Ref NY274072
OS Maps - Landranger 90 (Penrith & Keswick), Explorer OL5 (The English Lakes: NE Area)
---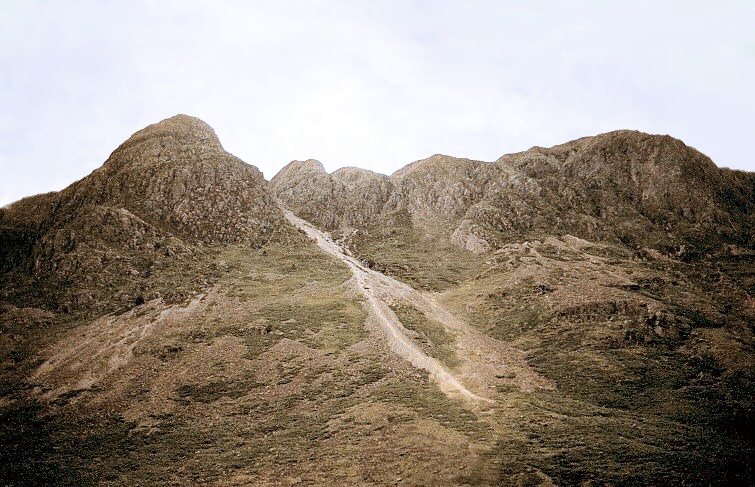 View from the Cumbria Way in the valley of Mickleden Beck looking north towards Pike of Stickle on the left and Gimmer Crag to the right. The scree slope that runs from near the top of Pike of Stickle represents the spoil from the axe quarrying activities.
Like many of the sites in this area, the Pike of Stickle axe factory is set in beautiful natural surroundings. The Pike itself is a towering conical peak that rises over 690 metres above sea level and 560 metres above the Cumbria Way track from where this photograph was taken. Below the summit on the southeastern side of the hill Neolithic workers quarried and roughly shaped the volcanic 'greenstone' rock into blanks that were traded around the country. Some of these blanks, that would have been used for making axe heads, have been found as far away as Cornwall and Wessex in the south, up to Scotland in the north.
Just under three miles away to the southeast at Chapel Stile is the large boulder of Copt Howe which has a complex series of carvings that have been suggested could represent a prehistoric map of the Great Langdale area.
Back to Map | Home | Full Glossary | Links | Email: chriscollyer@stone-circles.org.uk