Death's Head Rock
Bronze Age Rock Carving (PRAWR 577)
Snowden Carr, North Yorkshire OS Map Ref SE17805124
OS Maps - Landranger 104 (Leeds & Bradford), Explorer 297 (Lower Wharfedale & Washburn Valley)
---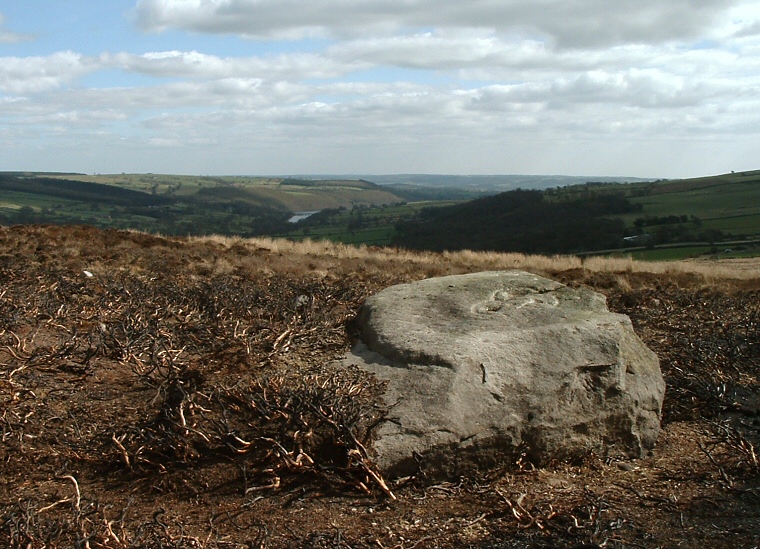 View of the Death's Head Rock looking east over the Washburn Valley.
On the northern side of Snowden Carr and a couple of hundred metres from the rocky edge of Snowden Crags is this strange carving that can be said to resemble a skull or a face. Known as the Death's Head Rock it consists of an upside down triangle of cup marks with a smaller cup close to the middle. These three larger cups are surrounded by interlinking rings with form the shape of the face, the top two cups forming the eyes, the bottom one the mouth and the middle one a nose.

There are several other cup marked rocks close by in a damaged cairn field, one has four deep cups, while another has a large basin which could be either man made or natural.

PRAWR 557 (Boughey and Vickerman. 2003. Prehistoric Rock Art of the West Riding.)

See also Snowden Carr and Tree of Life pages.

Probable Date: Bronze Age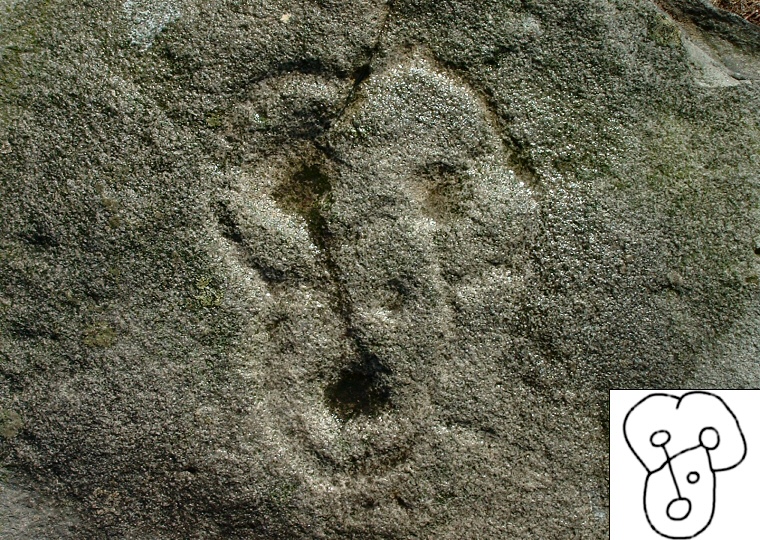 Close up of the carving on the rock with inset plan.
Back to Map | Home | Full Glossary | Links | Email: chriscollyer@stone-circles.org.uk