Tree Of Life Rock
Bronze Age Rock Carving (PRAWR 598)
Snowden Carr, North Yorkshire OS Map Ref SE180512
OS Maps - Landranger 104 (Leeds & Bradford), Explorer 297 (Lower Wharfedale & Washburn Valley)
---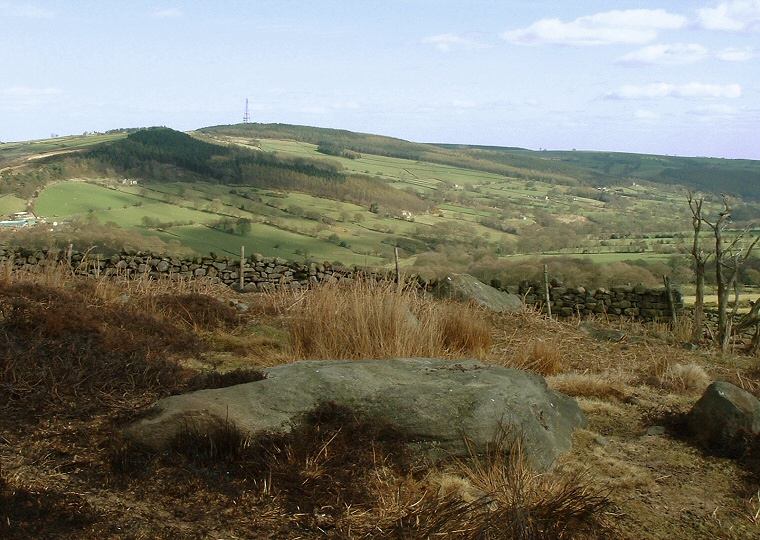 Looking east over the carved rock towards the River Washburn valley.
This
rock carving
is situated on the east side of Snowden Carr on a low flattish boulder which has around eighteen
cup
marks with eleven of them linked with grooves to a central 'stem' resembling a leaf or a tree, hence the stones name 'The Tree of Life Rock'. A shallow groove links several of the cups on one side of the design (on the right in the photograph below) while a deeper groove, part of which could be natural, flows along the opposite side of the carving.
Although this is quite a long rock, the carving are confined to the eastern end (there are a couple of simple cups on the western end). This could have be due to the view looking in this direction over the Washburn valley with the river curving away to the north and south, and the hill of Norwood Edge straight ahead. This ancient view has been altered in modern times with Swinsty Reservoir now to the north with Menwith Hill's radar golfballs beyond it and a large radio mast on top of Norwood Edge. Could it be that the carving in some way represents a plan of the springs and streams of the area leading into the river?
PRAWR =
Prehistoric Rock Art of the West Riding
(Boughey and Vickerman 2003)
See also
Snowden Carr
and
Death's Head Rock
pages.
Probable Date:
Bronze Age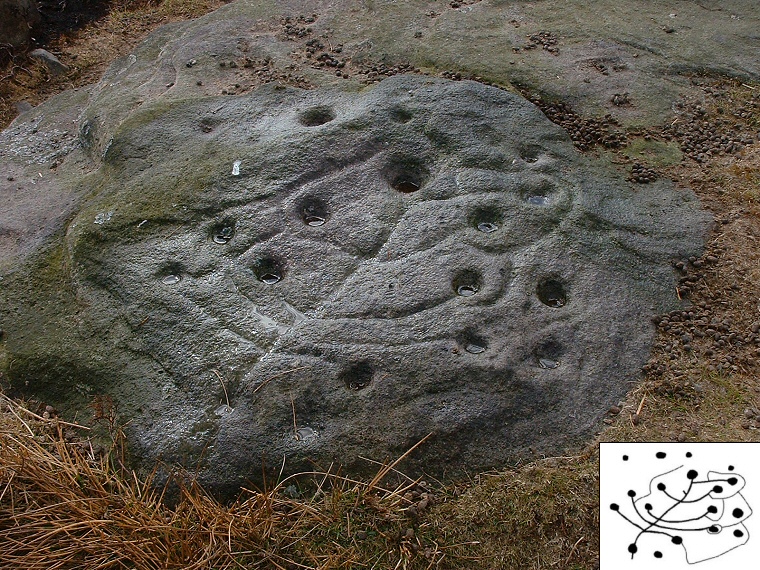 Carving on the east side of the rock with inset plan.
Back to Map | Home | Full Glossary | Links | Email: chriscollyer@stone-circles.org.uk