Doll Tor
Bronze Age Stone Circle and Cairn
South of Stanton in Peak, Derbyshire OS Map Ref SK23826286
OS Maps - Landranger 119 (Buxton & Matlock), Explorer OL24 (The Peak District - White Peak Area)
---
View of the circle, looking west from the cairn. 1999.
Doll Tor is a wonderful stone circle and cairn that is hidden beneath the dappled shade of a small wood (of much later date) a short distance from the natural rock outcrop of the Andle Stone and the circles and cairns of Stanton Moor beyond. The tiny circle of six stones, with a diameter of around six metres surrounding a central leveled platform is unusual for this area as it has no bank, although the stones were once connected with a low drystone wall. The circle itself was first excavated by Thomas Bateman in 1852 who found bucket urns and small cups. Heathcote re-excavated between 1931-1934 and discovered five cremations and more urns, there were further discoveries in the low cairn that is built on to the eastern side of the circle incorporating one of the circle stones. It was found to consist of a central rectangular stone grave pit which contained a female cremation along with a segmented faience bead, with four other cremations having been placed round the inner edge of the stone bank before it was all eventually filled in to form the cairn.
Sometime during 1993 somebody attempted to restore the circle and cairn, re-erecting some of the stones as well as bringing in others to replace missing ones. In 1994 an annoyed English Heritage and Peak National Park authority restored Doll Tor to what is thought to be its original Bronze Age condition.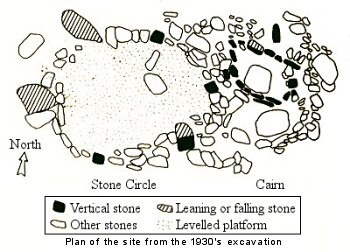 Plan of the site from the 1930's excavation
Various views of Doll Tor - Winter 2010


Back to Map | Home | Full Glossary | Links | Email: chriscollyer@stone-circles.org.uk