Fox Hill
Bronze Age Round Barrow
East of Ruston Parva, East Riding of Yorkshire OS Map Ref TA07606166 Elevation: 31M OSD
OS Maps - Landranger 101 (Scarborough), Explorer 295 (Bridlington, Driffield & Hornsea)

---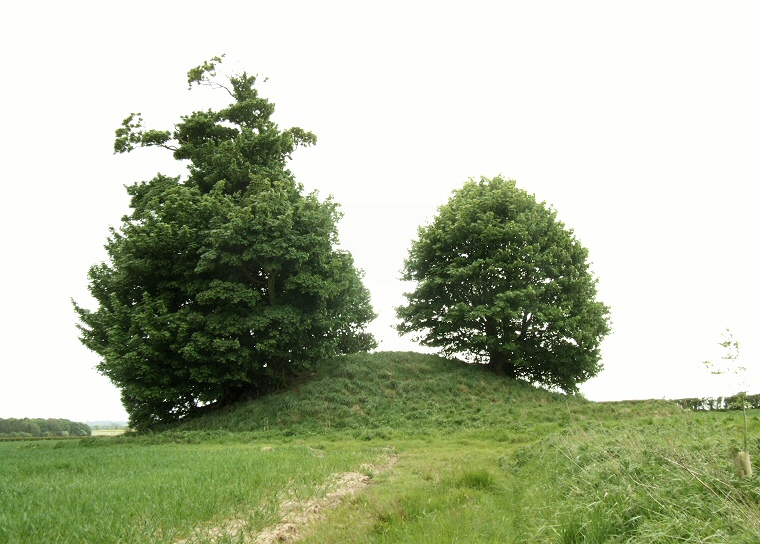 View of Fox Hill looking southeast, the line of trees to the lower left mark the course of Kelk Beck.
Very little is known about this round barrow and I can find no record of it ever being excavated. It is assumed to date from the Bronze Age although English Heritage suggest that it could be a later Roman burial mound or an early Medieval moot hill or 'thing' mound.

It measures about 27 metres by 21 metres being somewhat truncated on the eastern side by plough damage and stands to a height of between 3-4 metres.

There are no other barrows in the local vicinity nor do aerial surveys show evidence of any having stood nearby and being on the lower slopes of the Yorkshire Wolds places it some distance from the nearest concentration of barrows at Rudston Beacon 4km (2.5 miles) away to the north. It does however stand fairly close to the valley of Lowthorpe Beck/Kelk Beck which flows about 400 metres away to the east, the course of which can be seen to the left in the image above.





References:

Pastscape 79602, NMR Number TA 06 SE 10, Record of Scheduled Monuments 21236
Stoertz, C. 1997. Ancient Landscapes of the Yorkshire Wolds. Aerial photographic transcription and analysis. RCHME.


Map of the Rudston Landscape
Back to Map | Home | Full Glossary | Links | Email: chriscollyer@stone-circles.org.uk