The Ganton group is a set of Bronze Age
round barrows
that stand to the west of the B1249 road almost at the northern edge of the Yorkshire Wolds shortly before the land drops down into the valley of the Derwent which separates the Wolds from the North Yorkshire Moors.
This edge was the scene of much prehistoric activity and many
Neolithic
and
Bronze Age
barrows exist, or existed, along its length particularly the section that runs east to west from Heslerton Wold through Potter Brompton Wold, Ganton Wold and finally
Willerby Wold
. Many of these barrows were investigated by the 19th century antiquarian William Greenwell and he recorded nine that he excavated near Potter Brompton eight in the Ganton area and ten near Willerby and although his records of finds within the barrows are meticulous he is somewhat vague about exactly which barrow is which.
Of the Potter Brompton group most of the round barrows were between 18-22 metres in diameter,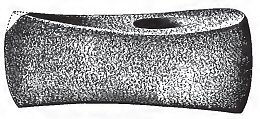 constructed of earth and chalk rubble which despite plough damage were up to a metre in height and contained the remains of men, women and children. Material finds included
food vessels
,
drinking cups
, pieces of boar tusk and red deer antler, bone from sheep or goats and a fine perforated greenstone axe-hammer measuring 13cm (5 inches) in length (pictured left).
A little further east Greenwell investigated further round barrows close to Ganton and noted that these had been particularly badly effected by ploughing which had reduced their heights considerably and spread the earth and chalk mound material of some of them out over areas of between 20-30 metres diameter. Again he found the remains of adults and children as well as food vessels,
cinerary urns
,
incense cups
,
jet
buttons,
flint
saws and bone pins. One of the larger barrows was found to be constructed of sand over a clay ground surface in which he found traces of stake holes which he concluded held a platform to protect the body from the water-logged conditions below. Another of the barrows had evidently been reused at a later date with the remains of an Anglo-Saxon woman found with a bronze belt clasp, a necklace made of
amber
and glass beads and as Greenwell noted - 'portions of the dress, of woollen fabric, in which she had been buried'.
Reference - 'British Barrows - a record of the examination of sepulchral mounds in various parts of England', William Greenwell, 1878