A low rise of earth to the east of Craike Hill is all that remains of the a
round barrow
recorded by Mortimer in 1866 as standing nearly a metre tall with a diameter of 30 metres. Similarities with cremations practices within some
long barrows
such as
Willerby Wold
has led authors such as Manby to consider this barrow as dating from the
Neolithic
period although possibly secondary inhumations, one with a beaker, may indicate it was either late within the period or was subject to reuse.
During Mortimer's 1866 excavation (see inset plan) he uncovered a central pit or trough aligned east-west and partly surrounded by turf walls within which he recorded a large quantity of burned flint and chalk along with the burnt bones of six individuals. The trough seems to have functioned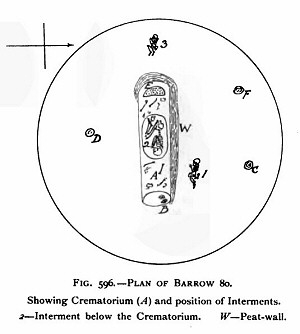 as a crematoria with bodies presumably placed inside before the structure was covered over with chalk and gravel and torched. Mortimer also noted the presence of several unburned bones within the trough, presumably these were added at a later date.
At the eastern end of the trough an oval pit which had been cut into the original ground surface was found to contain nothing but some unidentified decayed material but above it had been placed a pair of large boulders, one of sandstone and one of limestone, a similar pit at the western end of the trough without boulders contained the cremated remains of a young person.
Within the middle of the trough and partly cut into the old land surface was a grave containing the crouched skeleton of a young male with his head to the east and with a
beaker
at his feet. Mortimer interpreted the remains as the primary interment although it is now seen as being a secondary late Neolithic / early
Bronze Age
grave cut into the remains of the crematoria. Elsewhere within the body of the barrow mound were found the skeletal remains of an elderly male and female as well as a small pile of cremated bones.
The position of Garton 80 is interesting, it lies on the eastern edge of the Yorkshire Wolds on land just to the east, and slightly raised above, several springs that feed into the River Hull at the lower lying town of Driffield 4km (2.5 miles) to the east. It is also located about 1.6km (1 mile) to the south of the modern A166 road which partially follows the course of a Roman Road across the Wolds which may itself have traced the route of an existing prehistoric trackway. Although the road follows the higher ground to the north a modern track that leads eastwards from the B1248 descends along the shallow valley of Garton Slack and leads past the site of a large group of Bronze Age round barrows and
Iron Age
square barrows as revealed by aerial surveys and excavation. Mortimer himself noted that thirty five barrows were still visible to his expert eye within the Garton Slack area and although very little remains to be seen today it is significant that the area was in use for funerary practice from the Neolithic through to the Iron Age.