The Giantess' Apronful
Bronze Age Cairn
South of Tal-y-Fan, Gwynedd. Wales OS Map Ref SH71647166
OS Maps - Landranger 115 (Snowdon), Explorer 17 (Snowdon)

---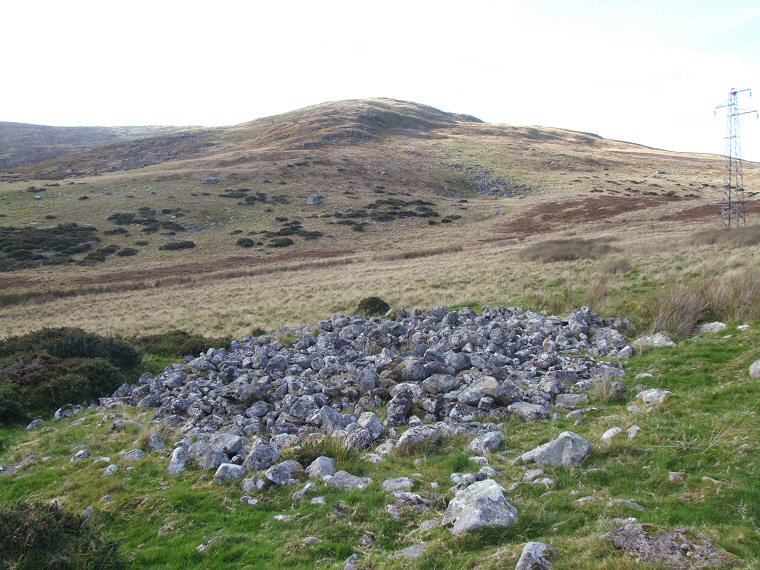 Looking west over the Giantess' Apronful cairn, part of a line of such cairns along the head of Bwlch-y-Ddeufaen.
This is the most prominent of a group of
cairns
that follow a track along the south-western slopes of Tal-y-Fan leading to the pass of
Bwlch y Ddeufaen
. This track has been important far back into prehistory, besides the cairns there are standing stones, burial chambers, settlement sites and a stone circle nearby as well as a later Roman road from Caernarfon to the fort of Canovium at Caerhun that also passed along the same route.
Three cairns in particular stand near the head of the valley that forms the source of the river Afon Tafolog, the Giantess' Apronful being one of these. It is partly overgrown with moss and grass but measures about 18 metres in diameter and may once have had a surrounding kerb but as can be seen above many of the stones of the mound are scattered and disturbed. It also recorded that the cairn once incorporated a slab lined
cist
1.5 long but this may also now be disturbed and I failed to locate it.
Suggested Date:
Bronze Age
Back to Map | Home | Full Glossary | Links | Email: chriscollyer@stone-circles.org.uk