Harland Edge
Bronze Age Cairn
South East of Chatsworth, Derbyshire OS Map Ref SK29306857
OS Maps - Landranger 119 (Buxton & Matlock), Explorer OL24 (The Peak District - White Peak Area)

---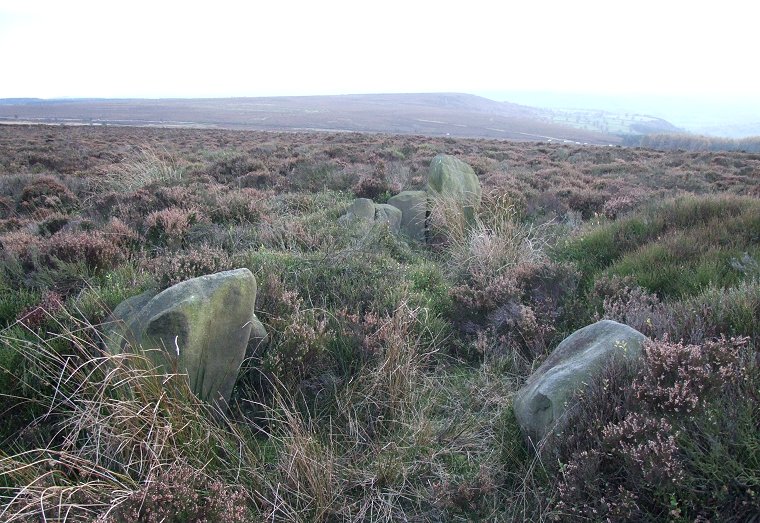 Harland Edge Cairn. The stone to the left and those in the middle form an outer kerb while the stone to the right is set into the outer bank of a raised central structure. The dark ground on the horizon is Raven Tor.
This is an unusual monument and various accounts of it differ on both its classification and even its form. Situated on the sloping ground of Harland Edge which divides Beeley Moor into an upper northern terrace and a lower southern one it is a confusing jumble of fallen and upright stones, some forming a kerb while others suggest entrances. These stones are set into an oval
cairn
of rubble measuring between 8 - 9 metres in length and about 6 metres at it narrowest which has a central raised area that appears hollowed out somewhat. In the picture above the stone to the right is set into the outer edge of this raised area which can be seen as the darker area of grass on along the right of the photo. The stone to the left is part of an outer kerb that can be seen to continue with the line of four continuous slabs in the centre of the picture and also shown in the photo below. Beyond these slabs to the southwest English Heritage record a gap between the stones as being an entrance while another is reported to the northeast, on the day I visited the thick vegetation and failing light meant I didn't have chance to confirm this.
It is difficult to draw parallels with any other monuments although the Harland Edge cairn does have some similarities with the nearby
Hob Hurst's House
a short distance away to the northwest and even English Heritage describe it as possibly unique. The central area reminded me somewhat of a leveled mortuary area which may suggest that the outer kerb of stones served to separate it from the world of the living with the space in between being the preserve of the holy men who may have carried the deceased in via the northeast entrance before pacing them on the central area and then exiting via the southwest, perhaps representing the same journey that the spirit would need to take.
Suggested Date -
Bronze Age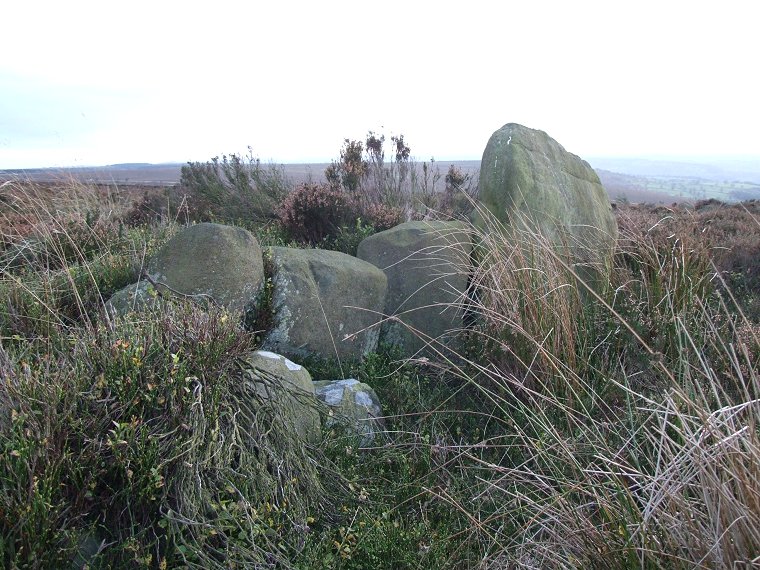 Four stones of the outer kerb with a couple of smaller stones just in front of them.
Back to Map | Home | Full Glossary | Links | Email: chriscollyer@stone-circles.org.uk