Hetty Pegler's Tump (Uley Tumulus)
Neolithic Chambered Long Barrow
North of Uley, Gloucestershire OS Map Ref SO789000
OS Maps - Landranger 162 (Gloucester & Forest of Dean), Explorer 168 (Stroud, Tetbury & Malmesbury)
---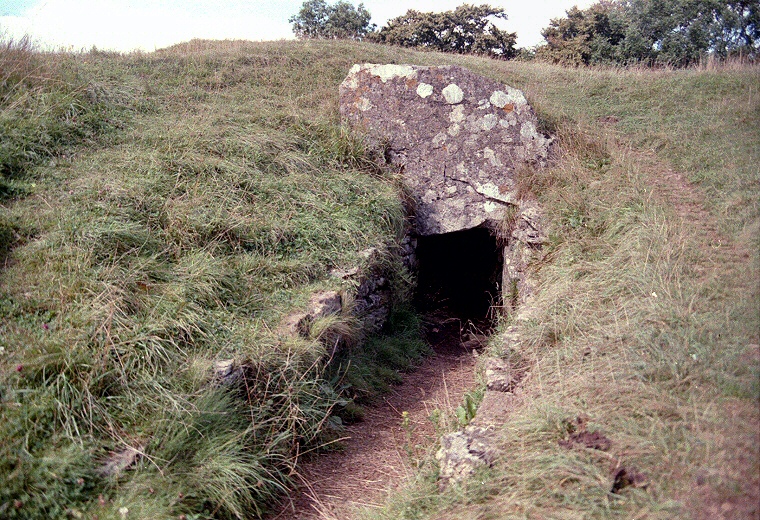 Named after Hester Peggler, the 17th century wife of the landowner, this is a wonderful place to visit, situated as it is on a narrow southwest spur of land in a peaceful corner of a farmers field overlooking the Vale of Berkeley, the River Severn and the Cotswold Way to the west. One of several chambered long barrows in this area (see also Nympsfield just under a mile to the north), it lies east-southeast to west-northwest with the eastern forecourt leading to a series of internal chambers. It has however a more oval form than usual, measuring about 36 metre by 25 metres although it appears from a distance to be circular.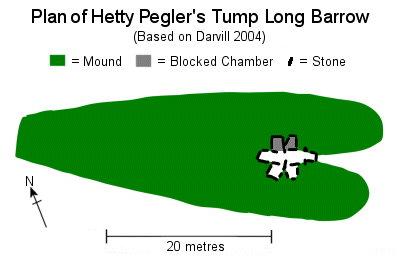 Passing through the deep forecourt and crawling through the two upright stones supporting a huge lintel takes you into what is referred to as a 'transepted gallery grave'. This is a 7 metre passage with a pair of chambers on either side (like the transepts of a church). The two northern chambers were destroyed in 1821 during quarrying for road building material when the barrow was thought to be a natural mound. Subsequent investigations during that year and again in 1854 revealed the skeletal remains of around twenty-three people. The two southern chambers are however accessible, as is the end of the passage which is blocked off to form yet another chamber, the whole construction being of large slabs of stone (including the roof which is made up of overlapping slabs) infilled with drystone walling.

When visiting this site one feels removed from the modern world, despite it standing only a short distance across the fields from the busy B4066 road. This feeling is compounded when sitting by torch-light deep within the solitude and silence of the tomb. The overwhelming impression is not however one of death and finality that one may feel at other similar monuments, but of life, rebirth and continuation The skylarks twitter overhead, as they must have done some 6000 years ago during the Neolithic when the tomb was built, the sun rises and sets and the cycle of life continues.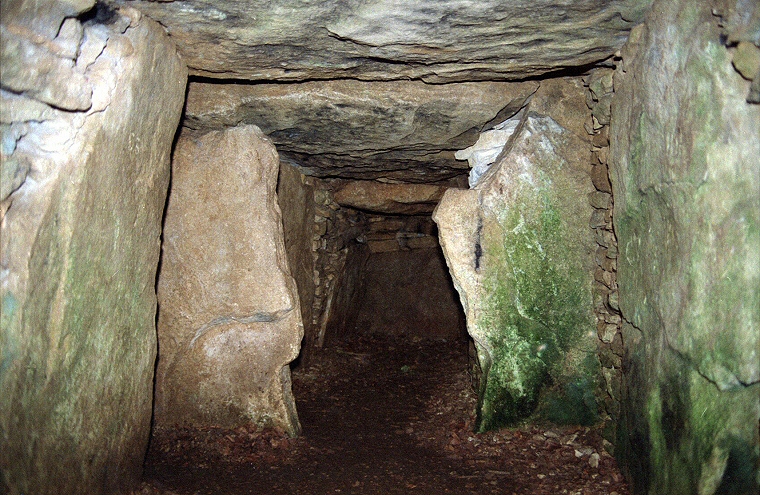 View looking into the chamber.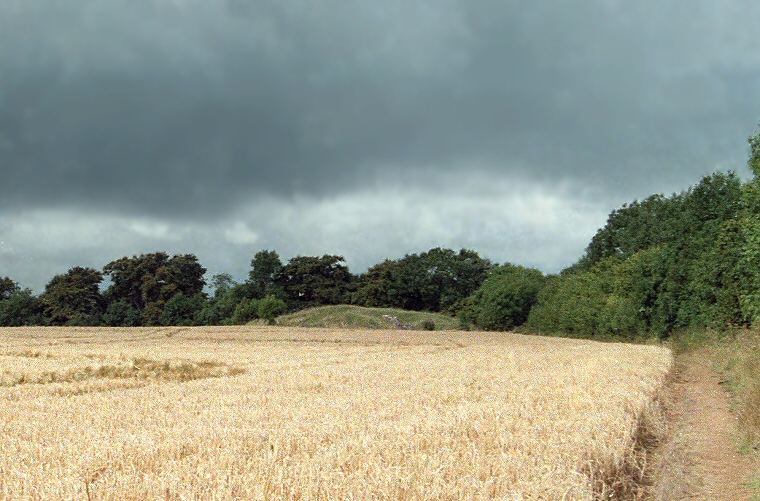 Dark clouds gathering above the barrow - view looking west from the path.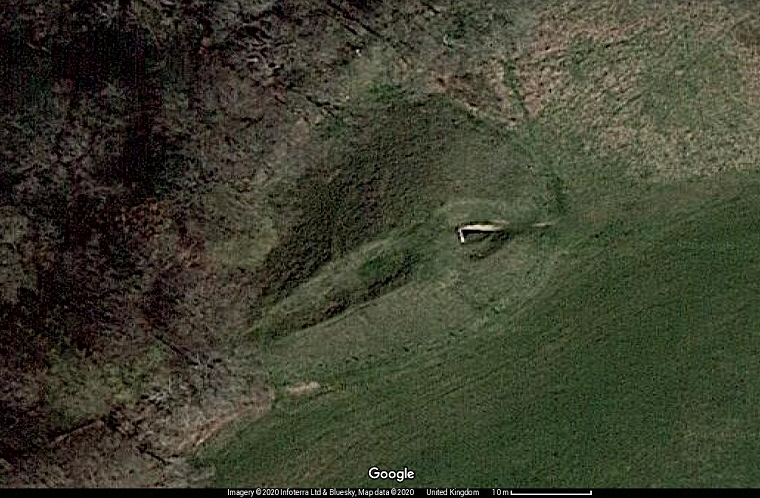 Satellite image of Hetty Pegler's Tump.
Back to Map | Home | Full Glossary | Links | Email: chriscollyer@stone-circles.org.uk