Nympsfield
Neolithic Chambered Long Barrow
South of Frocester, Gloucestershire OS Map Ref SO795014
OS Maps - Landranger 162 (Gloucester & Forest of Dean), Explorer 168 (Stroud, Tetbury & Malmesbury)
---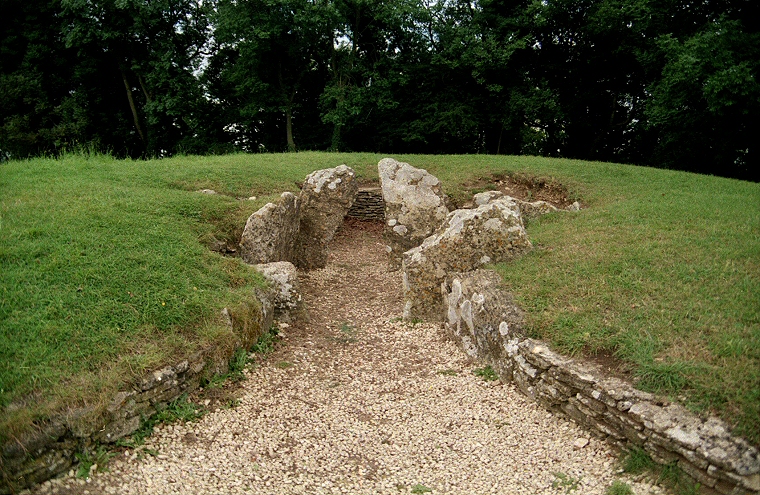 Entrance to Nympsfield with the drystone forecourt to the front with the antichamber and portal stones beyond
This east to west oriented chambered long barrow is situated in a roadside picnic area beside the B4066 at Coaley Peak and is now open to the sky after being excavated in 1862, 1937 and 1974.

Standing about one mile northwest from the barrow of Hetty Pegler's Tump, this is a 27 metre long ovoid mound, about 18 metres at its widest part, with a horned forecourt to the east which contained evidence of fires as well as many animal bones. From here an entrance passage leads through an antechamber or passage past a pair of side chambers to a terminal chamber.

This cross, or transepted, arrangement of chambers contained the remains of twenty-three bodies as well as pottery, flint and stone tools. Pieces of ochre was also found, it is now believed that Neolithic man used red ochre as a form of body adornment, and possibly also in funerary rights. Interestingly, many of the bodies showed signs of dental problems, perhaps Neolithic man was also picnicking on this spot!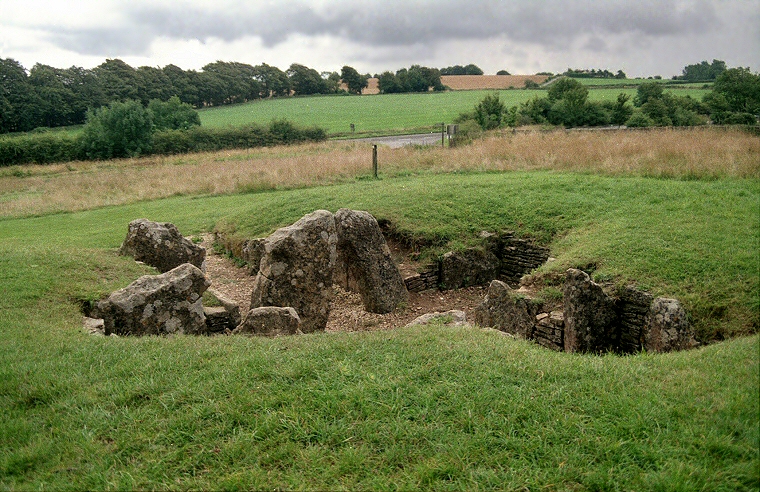 View of the chambers from the northwest. The terminal chamber is on the right with the two side chambers in the middle and left with the antechamber and entrance beyond the two upright portal stones.
Back to Map | Home | Full Glossary | Links | Email: chriscollyer@stone-circles.org.uk