Mayburgh Henge
Neolithic / Bronze Age Henge
Eamont Bridge, South of Penrith, Cumbria OS Map Ref NY51922843
OS Maps - Landranger 90 (Penrith & Keswick), Explorer OL5 (The English Lakes: NE Area)
---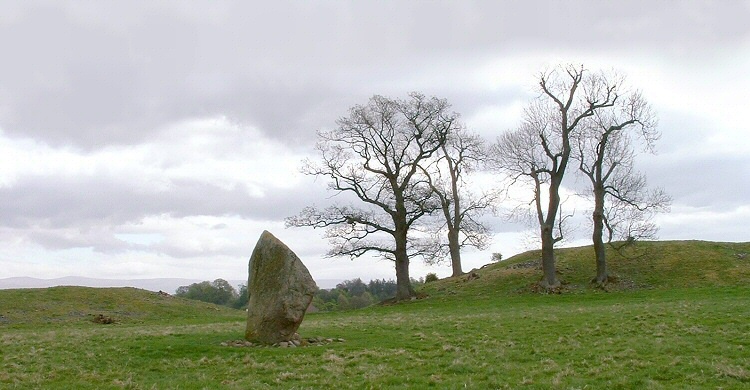 Mayburgh Henge - looking out eastwards through the entrance.
Mayburgh (also sometimes known as 'Mayborough') is a huge circular
henge
dating from the late
Neolithic
that has managed to survive being bulldozed by the construction of the M6 motorway that passes noisily by 50 metres to the southwest.
The monument consists of a bank with an external diameter of about 150 metres that was constructed with over five million cobblestones brought from the nearby River Eamont. It varies in height from nearly 4 metres to over 7 metres on the southern side and has a thickness of between 33 and 45 metres although in places it has been scarred by the removal of stones for local building material.
Unusually for a henge Mayburgh has no internal or external ditch, however there were originally four large standing stones at the centre of the structure although only a single beautifully blade shaped stone now remains (photograph above). There were also four stones standing within the single 7 metre wide entrance to the east - these too are now gone.
Through this entrance the nearby henge of
King Arthur's Round Table
can clearly be seen about 400 metres away to the east while a little further southeast is the almost destroyed Little Round Table henge. All three monuments stand on the same triangle of land between the confluence of the River Lowther and River Eamont and we can be certain that the three henges were connected in some way in what must have been an important ritual area for the local and perhaps wider population. What we don't know however is the order of construction of the monuments or even why their building was undertaken. While King Arthur's Round Table has an intimate feel Mayburgh gives the impression of being a vast amphitheater where perhaps hundreds or thousands of onlookers may have stood on the banks and watched ceremonies that concerned the passing of the seasons or the succession of new tribal leaders being enacted within.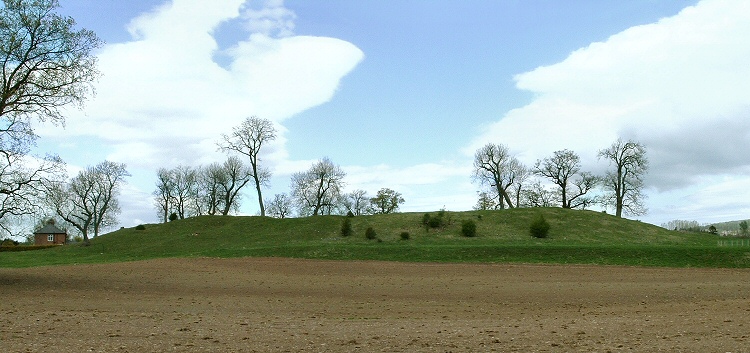 External view of the bank of Mayburgh Henge - looking northwest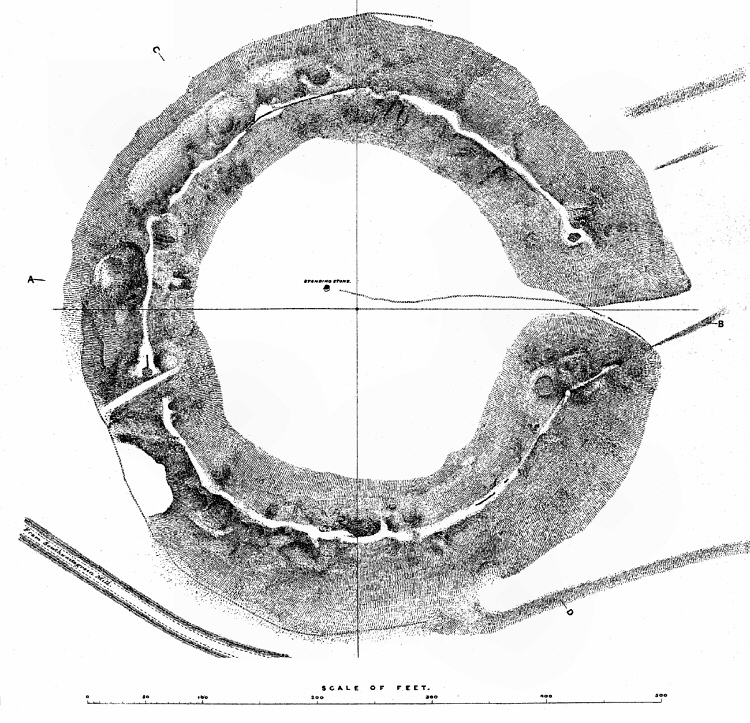 Plan of Mayburgh Henge by C. W. Dymond dated 1889.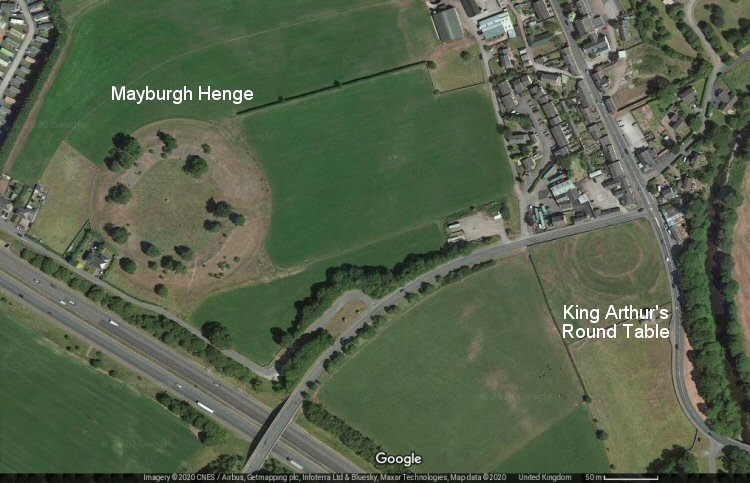 Satellite view showing the relationship between Mayburgh Henge and King Arthur's Round Table Henge, their centres are separated by about 400 metres. The course of River Lowther can be seen between the row of trees at the right hand side of the image.
Back to Map | Home | Full Glossary | Links | Email: chriscollyer@stone-circles.org.uk