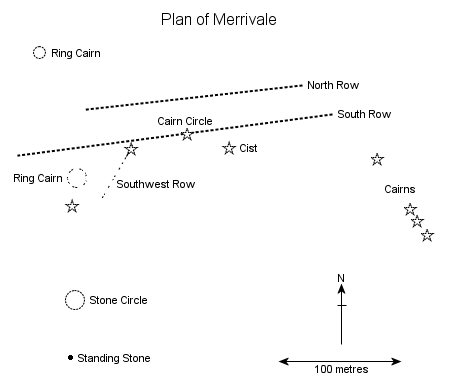 The
stone circle
that forms part of the Merrivale complex stands about 120 metres south of the western end of the southern
stone row
. Whereas the rows follow an east-west spine of land across Longash Common the circle and its associated
outlier
are located on a south facing slope that leads down to a small stream with the rock outcrop of King's Tor dominating the view to the south.
The circle itself is a fairly modest ring of eleven stones varying in height between 40-60cm and with a diameter of about 18 metres and excavations in 1895 suggested the existence of several socket holes that may once have held more stones that were already missing by that date. There does not appear to be any evidence of a bank around the stones making this a freestanding circle.
Just over 30 metres to the south of the circle and clearly visible from it is a 3 metre tall standing stone of rectangular section, the flat faces of its broader sides facing south towards King's Tor and north towards the circle. As can be seen from the photograph below the sun around midday casts a shadow that points back towards the circle (photographed in early August), this shadow would be even longer during the winter with the sun being lower in the sky although I doubt it would ever reach the circle. This may just be a coincidence but a further investigation of the relationship between the stone, the circle, the sun and King's Tor may be worth undertaking.
The monuments on this part of the moor stand close to a field boundary and it could be that other structures to the south have been damaged or destroyed. A handful of low stones would seem to be evidence of a stone row that once lead south from close to the standing stone while parts of the kerb of a small
cairn
also stand near by as well as several other fallen stones in the vicinity whose purpose remains unclear.
Date:
Bronze Age