Merrivale is probably the best known and most visited of the prehistoric sites on Dartmoor, partly due to its ease of access and partly due to the wealth of monuments that greet the visitor.
The most conspicuous of these are the pair of long stone rows that cross the landscape of Longash Common but close-by is also a settlement site, a
stone circle
with a tall outlying stone, a couple of
ring cairns
and a
cist
as well as several other
cairns
and a length of reave.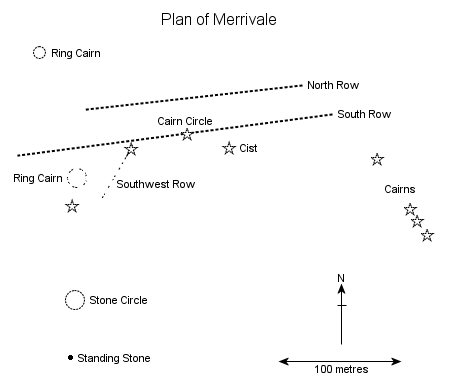 The pair of rows follow the spine of a low ridge that slopes down to the southwest losing about 10 metres of altitude over the course of about 250 metres, after a further 200 metres the land drops away more rapidly to the valley of the River Walkham.
The southern row is the longer and more complete of the rows (top picture on this page) and starts with an eastern triangular blocking stone that measures over a metre tall from which a double avenue of perhaps two hundred stones measuring up to about half a metre high emerges to travel 260 metres in a west-southwest direction terminating with a pair of stones, one fairly broad and squat, the other more slender (bottom picture).
About 25 metres to the north of this row and separated by a leat (a man made drainage stream) is a second row - the northern row. This is not as long as the southern row measuring about 180 metres in length although it runs almost parallel with its neighbour. It too is a double row of around one hundred and sixty stones but here they are generally smaller and being partly overgrown can be difficult to follow in places. A squat blocking stone exists at the eastern end but the western end just seems to fade into nothingness.
A third but almost inconspicuous row exists about two thirds of the way along the southern row leading away to the southwest, this consists of about half a dozen stones stretched out over 40 metres with a damaged cairn at its northern end.
One curious aspect of the southern row is a cairn circle located half way along its length. This cairn with its kerb of seven low upright stones straddles the avenue, effectively cutting it in two and was clearly of some significance. The question is was it built at the same time as the row, was it already here and the row built around it or was it added later. If it came later did it fill a gap between two separate avenues of stone to create a continuous row or were stones from the row removed to accommodate it and perhaps form the kerb of the cairn?
Two other monuments of note stand to the immediate south of the southern row. The first is a mutilated cist to the southeast of the cairn circle whose thick capstone has either been sliced into two pieces or had a section cut out of it so that it now gives an easy view into a rectangular slab lined tomb measuring about 2 x1 metres and nearly a metre deep. The other monument is possibly a ring cairn with an internal kerb cairn. It stands towards the southern end of the row and comprises a hollowed out mound of rubble that is lined with a ring of low boulders set within an outer low bank measuring about 17 metres in diameter. Another ring cairn exists to the northwest of the northern row but this a difficult to find on the ground having just a handful of stones set into a 9 metre wide low ring of overgrown earth and rubble.
Other notable structures at Merrivale are a section of the Great Western Reave - a prehistoric bank of rubble that runs past the east of the two main rows which has several cairns embedded in it and a stone circle (covered
here
) and settlement site (covered
here
).
Date:
Bronze Age