Middleton Moor (West) - Page 1
Bronze Age Carved Rocks
North of Middleton, North Yorkshire General OS Map Ref SE10895138
OS Maps - Landranger 104 (Leeds & Bradford), Explorer 297 (Lower Wharfedale & Washburn Valley)
PRAWR = Prehistoric Rock Art of the West Riding - Boughey and Vickerman 2003
---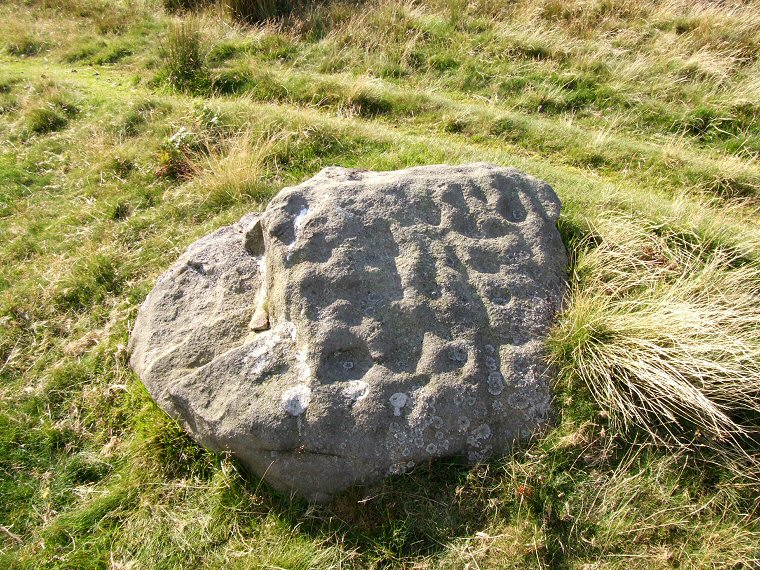 Middleton Moor PRAWR Stone 435 at SE10775149. This low boulder has a confusing mix of markings on two faces, some of which may be natural. On the eastern face shown above several cups can be seen along with a groove running down the face towards the right. Some of the cups appear to be linked but this may be the result of natural erosion, there are also several cups on the opposite face of the stone.

Middleton Moor PRAWR Stone 453 at SE10975128. This interesting flat rock has a mix of shallow and deeper cup marks that are enclosed within a flowing groove that extends across the surface and around the side of the stone nearest the camera. Ten to twelve cups are enclosed while a further pair appear just above (to the upper left).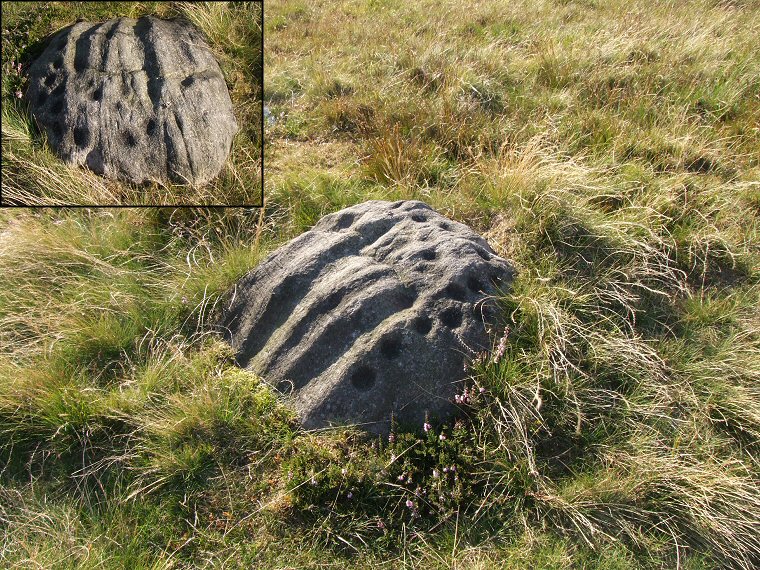 Middleton Moor PRAWR Stone 454 at SE10985129. This small boulder shows a mix of markings. It has four deep grooves that are thought to be natural and it could be these distinctive marks that saw this stone singled out for carving. About sixteen cups are placed across the surface but only one seems linked to the grooves while a line of five cups can be seen forming a line along the nearest edge just below the nearest groove. The rest of the cups appear to be placed more randomly (see inset image).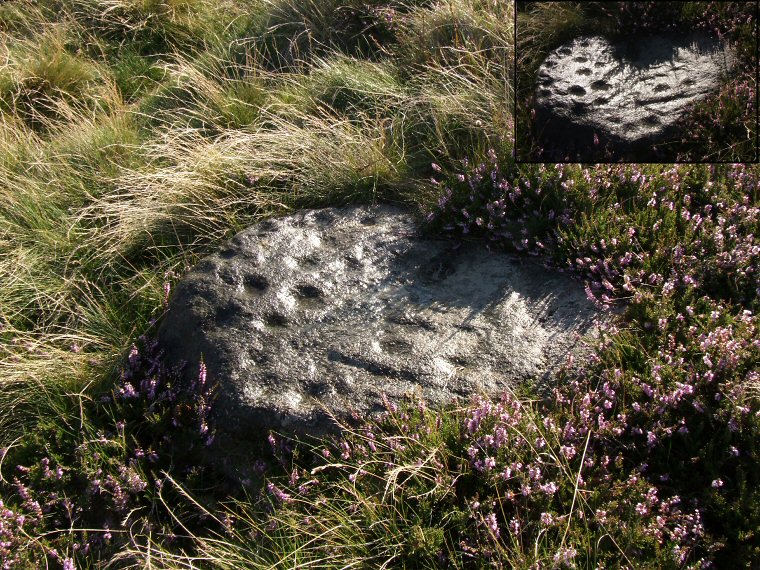 Middleton Moor PRAWR Stone 455 at SE11015130. The markings on this flat rock are quite worn but seem to consist of about 17 cups and a short groove (more visible to the lower right of the inset image).

Back to Map | Home | Full Glossary | Links | Email: chriscollyer@stone-circles.org.uk