Moscar Moor Cairn
Bronze Age Kerbed Cairn
East of Ashopton, Derbyshire OS Map Ref SK21618586
OS Maps - Landranger 110 (Sheffield & Huddersfield), Explorer OL1 (The Peak District - Dark Peak Area)
---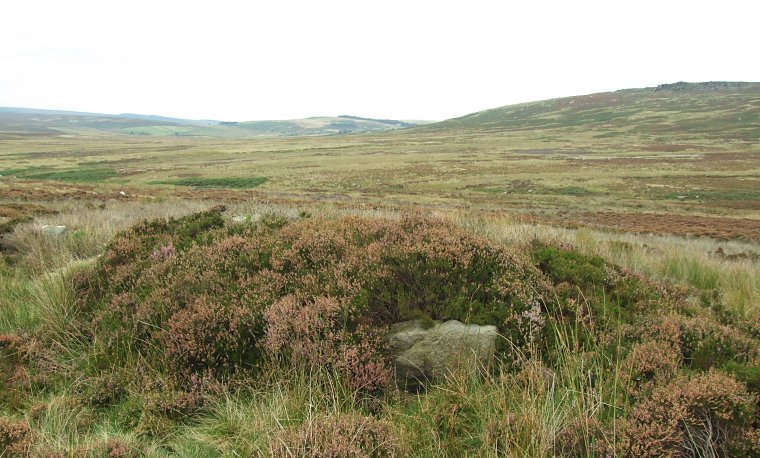 Looking north over the cairn on Moscar Moor. One of the kerb stones is visible in the centre.
This is an unusual
cairn
in an unusual location. It consists of an oval earth and rubble structure about a metre high and between 6 - 8 metres across with five large boulders or slabs set into its outer edge. One of these slabs is leaning out at a distinct angle while a couple of others are partly covered with heather as can be seen in the image above and the arrangement and scale of the kerb of stones here reminded me strongly of the similar sized
stone circle
about a mile further south on
Bamford Moor
.
Like this stone circle the cairn is also sited on the lower eastern slopes of Bamford Moor within the shadow of Stanage Edge but it also stands close to the southern end of the deep gully of Jarvis Clough and with no other obvious prehistoric remains nearby it is difficult to put it into any kind of context in relation to the rest of the monuments of the moor. Is it possible that its isolated position at the head of a valley meant that it was built as a territorial boundary marker to those traveling onto the moor from the north?
Suggested Date -
Bronze Age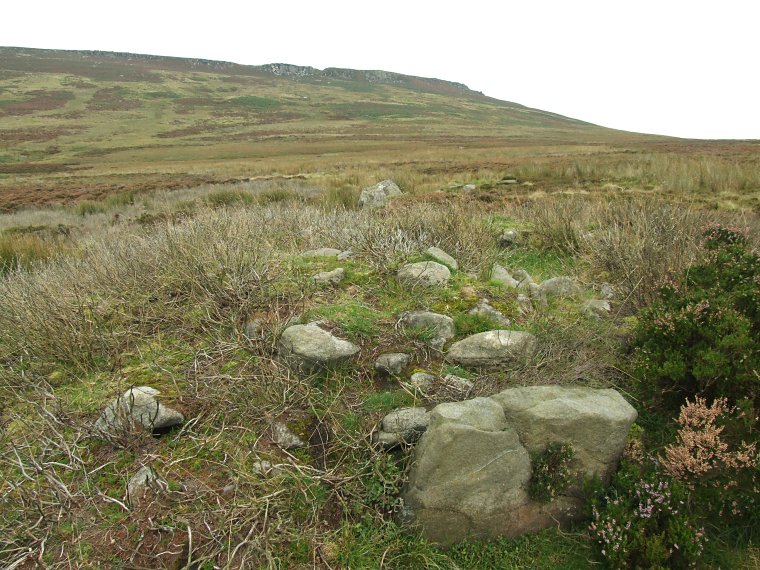 Looking southeast with Stanage Edge in the background. Two of the kerb stones can be seen, the large slab at the lower right and the top of another stone two thirds of the way up the picture in the centre of the shot. This helps to give an idea of the scale of the cairn which otherwise tends to blend in with the surrounding grass and heather.
Back to Map | Home | Full Glossary | Links | Email: chriscollyer@stone-circles.org.uk