Newbald Lodge Southeast
Bronze Age Barrow Cemetery
Northwest of Hull OS Map Ref SE945392
OS Maps - Landranger 106 (Market Weighton), Explorer 293 (Kingston upon Hull & Beverley)
---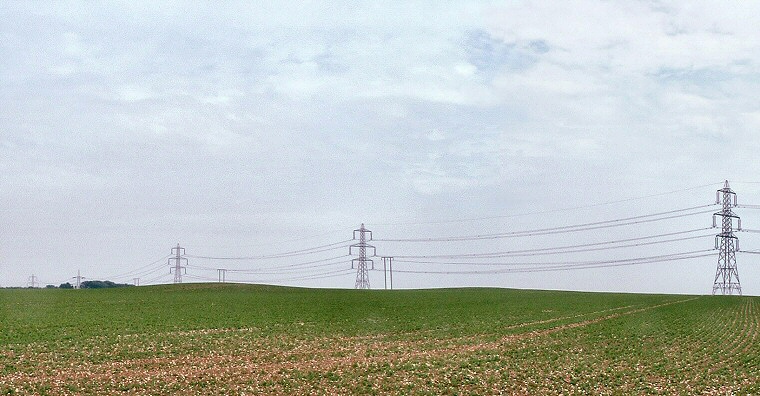 Two of the barrows of the Newbald Lodge Southeast group (to the left and right of centre)
This is a collection
round barrows
that form the central group of three
Bronze Age
cemeteries that run in a rough line southeast to northwest on the eastern side of Newbald Wold (the two others being
High Gardham
and
Littlewood
). The barrows are located on the northwestern slope of Burton Rakes close to a saddle of land between the dry valley of Furrows Plantation/Deepdale Plantation to the northeast and a dry valley that leads to Hollybush Plantation to the southwest.
Although the current Ordnance Survey 1:25000 map shows seven barrows the 1905 OS map indicates an additional pair of mounds while recent aerial surveys show the location of ten barrows or cropmarks and it appears from this that the group contained two short alignments of four barrows each with both rows sharing a barrow that stands at the western edge of the group. From the ground several of the barrows appear as rises on the local horizon when viewed from the west near the corner of the field where it meets the minor road that leads past Newbald Lodge.
English Heritage list their dimensions as being between 20m-38 metres in diameter and up to 1.5 metres in height although most of the group are much lower than this being only slight swellings in the soil no more than 20-30 cm high.


References:
Ordnance Survey. 1905.
Yorkshire Wolds (South)
. Reprint 2001, Leadgate: Alan Godfrey Maps.
Ordnance Survey. 2010.
OS Explorer Map (1:25000) Kingston upon Hull & Beverley
. Sheet 293. Ordnance Survey.
Pastscape: 64130, 64133, 64136, 64142. NMR Numbers: SE 93 NW 7, SE 93 NW 8, SE 93 NW 9, SE 93 NW 11
Record of Scheduled Monuments: 21147, 21148, 21149, 21150
Stoertz, C. 1997.
Ancient Landscapes of the Yorkshire Wolds. Aerial photographic transcription and analysis
. RCHME.


Back to Map | Home | Full Glossary | Links | Email: chriscollyer@stone-circles.org.uk