Parc Y Meirw
Bronze Age Stone Row
East of Fishguard, Dyfed, Wales OS Map Ref SM998359
OS Maps - Landranger 145 (Cardigan & Mynydd Preseli), Explorer OL35 (North Pembrokeshire)
---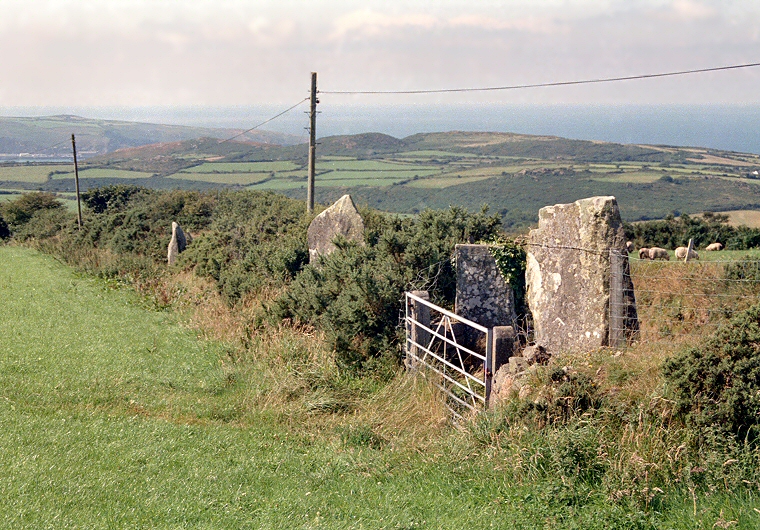 Parc Y Meirw Stone Row looking northwest towards Fishguard Bay
Situated roughly half way between the village of Llanychaer and the mountain of Garn Fawr, Parc Y Meirw (which translates as the 'field of the dead') is the longest stone row in Wales.

Originally it consisted of seven or eight stones in a 36 metre northwest to southeast alignment, although at least three stones are either fallen or removed. Four of the stones that now remain form part of a field boundary and hedgerow by the side of the road with two of them even acting as gate posts.

What purpose this line of stones served is not clear - they stand on the southwest side of a hillside at about 190 metres above sea level, half a mile north of the river Afon Gwaum which can just be seen towards the upper left edge in the image above. This river flows into the sea at Fishguard harbour 2 miles away to the west of the stones and it could be that the row marked a trackway along the side of the hill from somewhere like Carn Ingli or even further east, from Carn Menyn - the source of the Stonehenge bluestones. If we assume a Bronze Age date for the stone row then could it be that Parc Y Meirw was constructed to commemorate the memory of the passage of the bluestones on their way to harbour to start their long sea journey to Salisbury Plain?
Back to Map | Home | Full Glossary | Links | Email: chriscollyer@stone-circles.org.uk