Penrhos Feilw
Bronze Age Standing Stones
Penrhos Feilw, Holyhead, Wales OS Map Ref SH22708094
OS Maps - Landranger 114 (Anglesey), Explorer 262 (Anglesey West)
---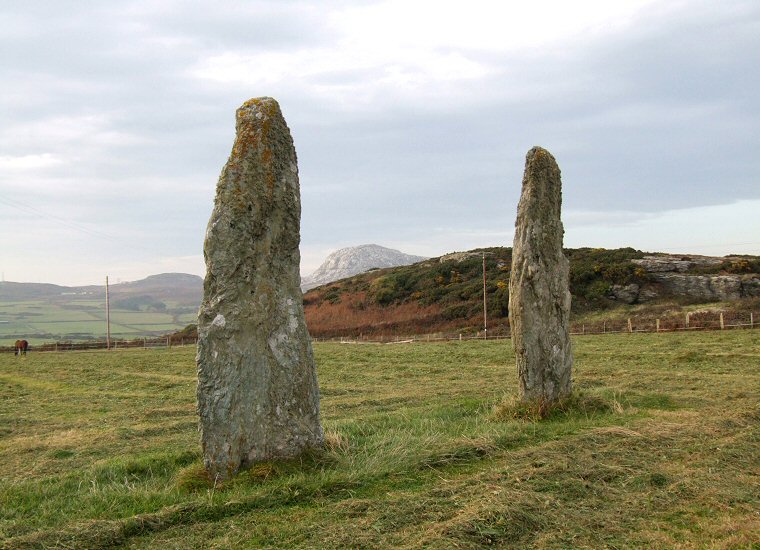 Penrhos Feilw standing stones looking north towards Holyhead Mountain.
There seems to be very little information available about this pair of standing stones situated behind the farm house of Plas Meilw and about 2km southwest of the ferry port of Holyhead.

They stand on a small plateau or saddle of level ground between a pair of low hills and with views to the south over the bay of Porth Dafarch but it is to the northwest where the eye is really drawn. Just over 2km away the rocky dome of Holyhead Mountain dominates the skyline and although the stones are not aligned on this outcrop the view of the mountain may well have been important in the location of the stones.

The stones themselves were probably erected in the Bronze Age and although they are both around 3 metres tall and a metre wide towards their bases they are no more than 20cm thick and their graceful and delicate profile is reminiscent of the Giant's Grave standing stones in Cumbria. The stones are aligned southwest to northeast along their long axes and despite speculation that they may have formed part of a stone circle no physical evidence exists to support the idea, there is a story however that a stone cist once stood between the stones from which bones, arrow heads and a spear were recovered but again there is no evidence to suggest if this is any more than a local folk tale.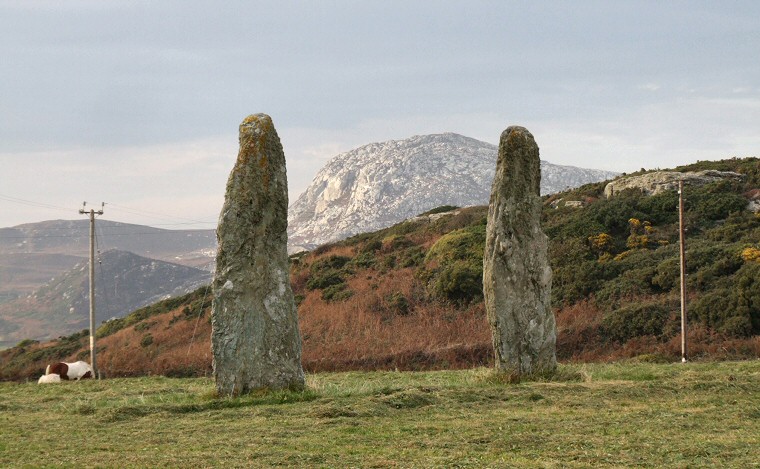 This telephoto shot illustrates how Holyhead Mountain dominates the surrounding landscape.
Back to Map | Home | Full Glossary | Links | Email: chriscollyer@stone-circles.org.uk