Penrhos Feilw
Bronze Age Standing Stones
Penrhos Feilw, Holyhead, Wales OS Map Ref SH22708094
OS Maps - Landranger 114 (Anglesey), Explorer 262 (Anglesey West)
---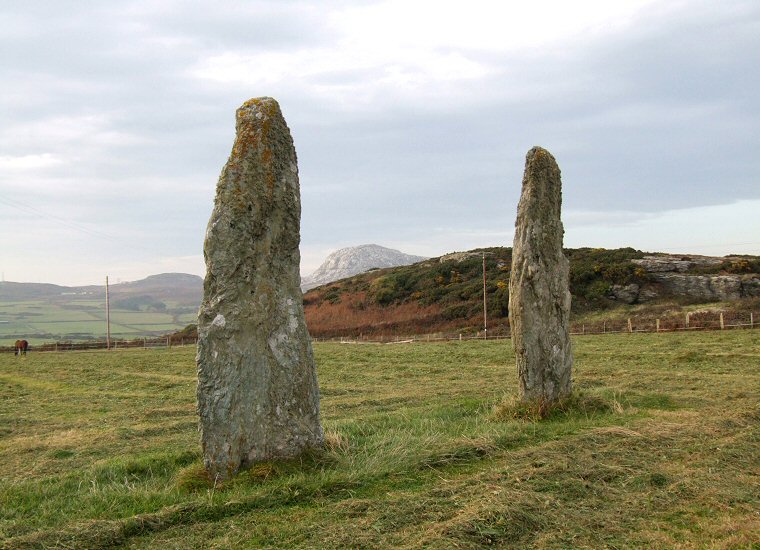 Penrhos Feilw standing stones looking north towards Holyhead Mountain.
There seems to be very little information available about this pair of standing stones that are situated about 2km southwest of the ferry port of Holyhead and behind the farm house of Plas Meilw to the northwest of the island.

They stand on a small plateau or saddle of level ground between a pair of low hills with views to the south over the bay of Porth Dafarch but it is to the northwest where the eye is really drawn. Just over 2km away the rocky dome of Holyhead Mountain dominates the skyline and although the stones are not aligned on the outcrop, instead forming a southwest to northeast line along their long axes, the view of the mountain may well have been important in the location of the stones.

The stones themselves consist of metamorphic schist rock and stand about 3 metres apart, both being around 3.4 metres tall and a metre wide towards their bases but despite their massive size they are no more than 20cm thick and their graceful and delicate profile is reminiscent of the Giant's Grave standing stones in Cumbria.

William Owen Stanley, the local MP and also an archaeologist, mentioned the stones in 1896 and provided a striking if a little romantised view of them overlooking Porth Dafarch (image below). He also recorded a local tradition that the two stones were 'surrounded by a circle of large stones, standing 4 or 5 ft. above the surface; many of these were removed by the tenants to build the outhouses, fences, and to form gate-posts'. As far as I am aware there is sadly no archaeological evidence to support the idea of a vanished stone circle at the site. Another story claims that a stone cist once stood between the stones from which bones, arrow heads and a spear were recovered but again there is no evidence to suggest that this is any more than a local folk tale.

Probable Date: Bronze Age .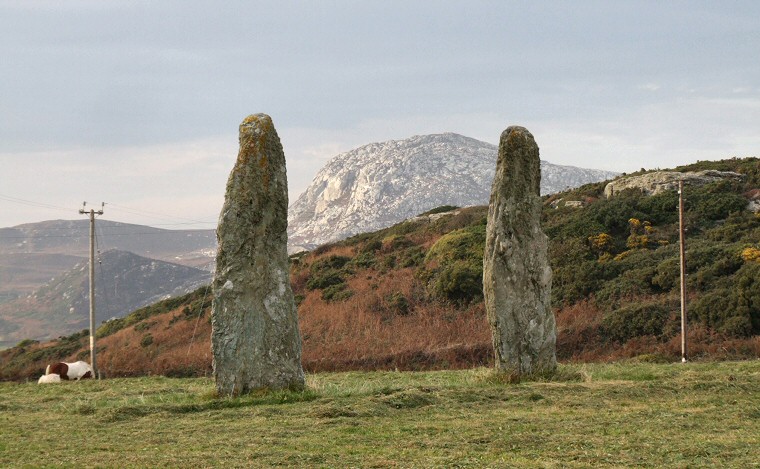 This telephoto shot illustrates how Holyhead Mountain dominates the surrounding landscape.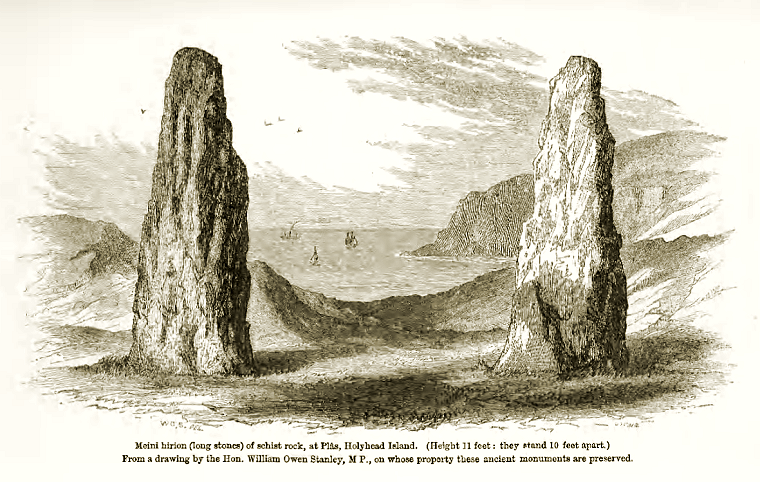 A rather nice illustration of Penrhos Feilw standing stones by William Owen Stanley that appeared in the Archaeological Journal 1896.
Back to Map | Home | Full Glossary | Links | Email: chriscollyer@stone-circles.org.uk