Raven Tor
Bronze Age Triple Cairn and Cist
South of Chatsworth, Derbyshire OS Map Ref SK28046687
OS Maps - Landranger 119 (Buxton & Matlock), Explorer OL24 (The Peak District - White Peak Area)

---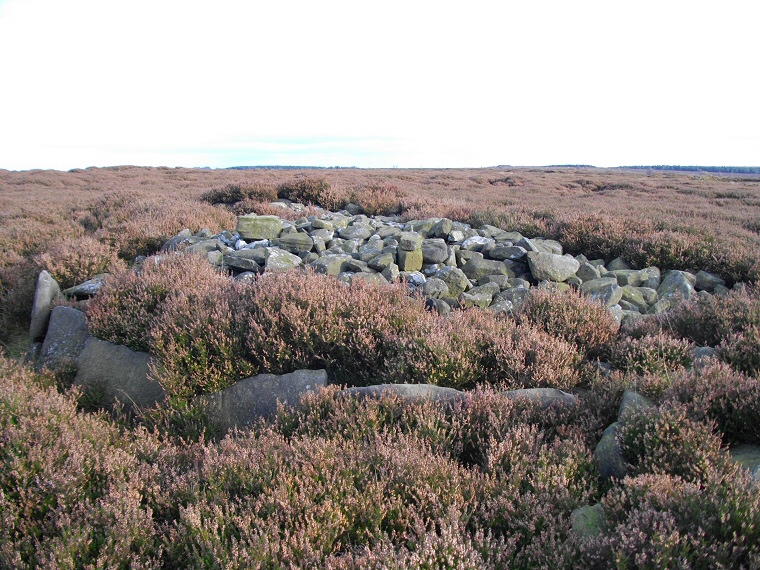 Raven Tor is an escapement along the southwestern edge of Beeley Moor with some fantastic views west over the valleys of Beeley Brook and the Rivers Wye and Derwent.
Set a little way back from the rocky edge is this unusual monument, a
Bronze Age
triple
cairn
with a fine retaining kerb of gritstone slabs. These three interlinking cairns are aligned roughly east-west and are of a fairly similar size averaging about 7 metres in diameter with the kerb stones reaching about half a metre in height. The photograph above shows the central cairn looking east, part of the kerb of the western cairn can be seen at the bottom right. Set within these kerbs the jumble of rocks forming the main body of the cairns is now partly overgrown with heather but English Heritage record the central and western cairns as having contained stone lined
cists
.
Cists seem to be a common feature of sites in this area, indeed another well preserved rectangular example about a metre in length exists in a cairn just over 300 metres to the south (bottom picture), while others exist north of Raven Tor at
Hob Hurst's House
and close to the
Four Poster
circle on Gibbet Moor.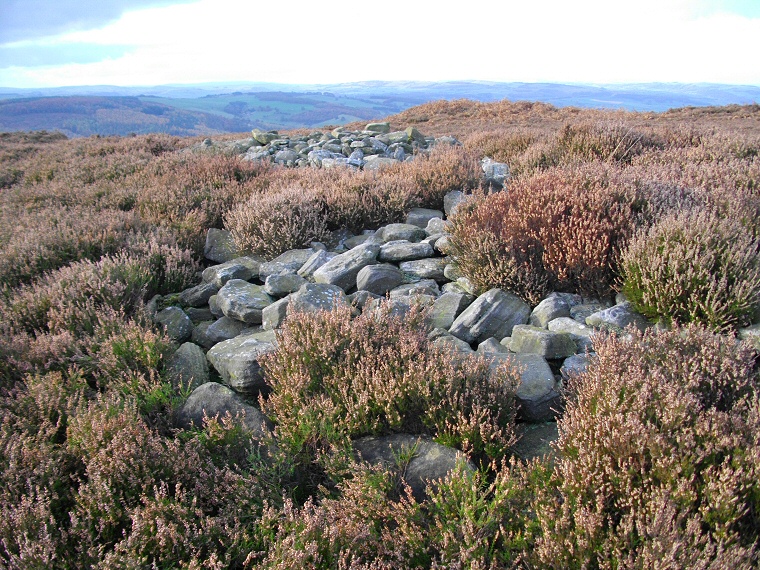 Looking west over the central and western cairns. This picture illustrates how badly overgrown with heather the site can get in the summer.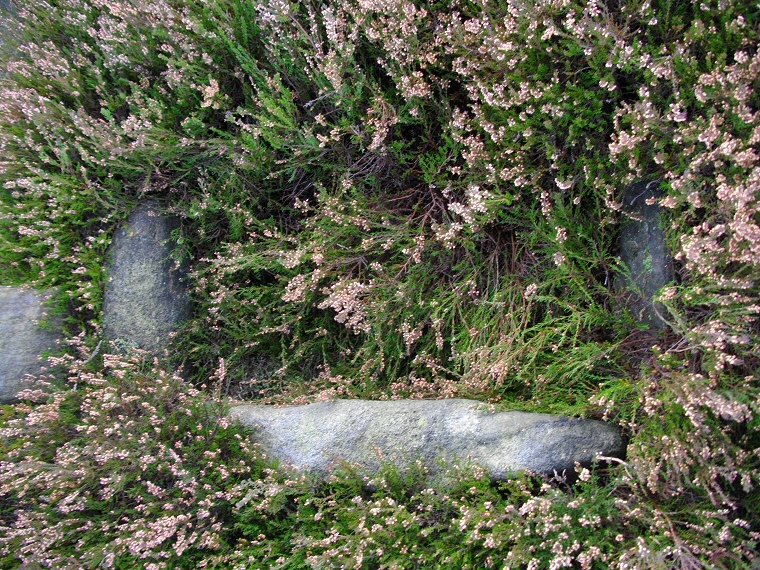 Cist at SK27986650. Looking vertically down with the three remaining slabs visible at the bottom and to the left and right of the picture.
Back to Map | Home | Full Glossary | Links | Email: chriscollyer@stone-circles.org.uk