Shap Stone Circles
Bronze Age Stone Circles
Shap, Cumbria
OS Map Ref: Wilson Scar NY549182 Gunnerkeld NY568178 Kemp Howe NY567133
OS Maps - Landranger 90 (Penrith & Keswick), Explorer OL5 (The English Lakes: NE Area)

---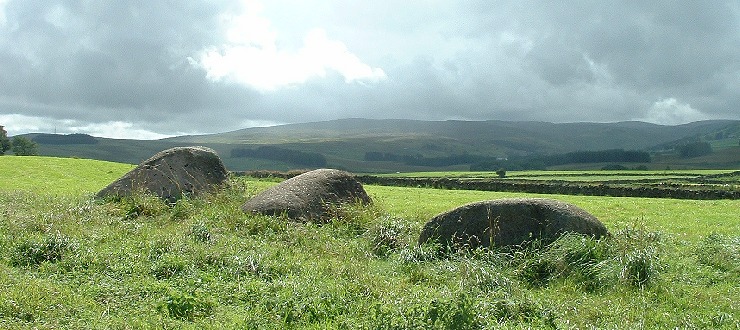 Looking southwest across Kemp Howe towards the hills of the Shap Fells.
There are (or were) three stone circles in this area, Shap North (Wilson Scar), Shap Centre (Gunnerkeld), and Shap South (Kemp Howe).
Wilson Scar consisted of 32 small stones that stood in a 15 metre circle west of the A6 and northwest of Shap itself. The land that it stood on is part of a large quarry and is inaccessible, however there is a record of a circle being excavated here in 1943 prior to quarrying - leading to the conclusion that Wilson Scar has now been destroyed.
Gunnerkeld consists of two ovals, the outer has 3 stones remaining from an original 18 that would have measured some 28 metre across. The inner oval is much better preserved, and is 18 metres wide containing a burial mound. It stands on private land and permission must be sought before visiting it (unfortunately there was nobody home when I visited so I have yet to see the circle at first hand although it can be seen from the southbound carriage of the nearby M6 motorway)
Kemp Howe meanwhile is curiously bisected by the Preston-Carlisle mainline railway with only 6 large stones still in situ. It would originally have been over 24 metres wide had not 19th century railway technology so rudely disturbed it.
The circles form part of a much lager complex of monuments that form a roughly southeast-northwest alignment that is now shadowed by the routes of the M6, the A6 and the West Coast Mainline. See also Shap Stone Row

Glossary Item: Bronze Age
Kemp Howe looking southeast. Compare this with the idyllic Cumbrian view at the top of the page.
Back to Map | Home | Full Glossary | Links | Email: chriscollyer@stone-circles.org.uk