Sharpitor Settlement
Bronze Age Huts
Northeast of Sharpitor, Dartmoor, Devon OS Map Ref SX56107054
OS Maps - Landranger 202 (Torbay & South Dartmoor), Explorer OL28 (Dartmoor)
---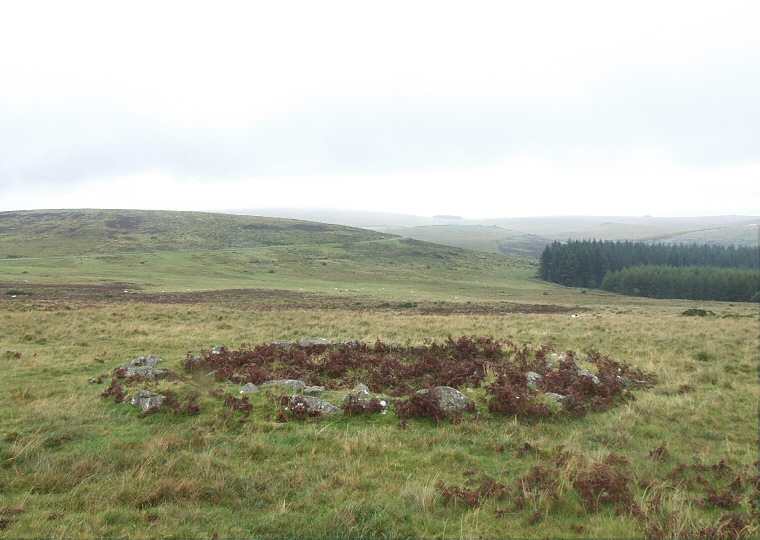 A well defined hut circle at Sharpitor looking northeast towards Leeden Tor.
Sharpitor is a well know granite outcrop popular with visitors to Dartmoor as it stands close to the B3212 road as it crosses the southwestern corner of the moor. While the bare rock hill dominates the local landscape and is popular with walkers and day trippers there are traces of prehistoric activity on its slopes that go largely unnoticed by many tourists including the
stone rows and cairns
on its northern slopes and this small settlement to the northeast of the Tor.
The collection of eleven hut circles with their associated field system that make up the settlement lie just 250 metres from the summit of Sharpitor on gently northeastern sloping ground that leads down to the pass between Sharpitor and Leeden Tor which now forms the route of the modern road and it could well be that the road is built over what was the course of an ancient trackway. The huts are mostly circular but vary greatly in size from small 2 metres diameter examples that may be the remains of storage areas to others like the one shown above that have a diameter of over 8 metres which are likely to have been the bases of habitation structures, i.e.
Bronze Age
houses. The wooden posts that would have supported the turf or brush covered roofs have of course long gone but the stone rings around the base of the walls still remain and some still stand up to half a metre tall.
The
Flag Fen
page shows a reconstruction of a round house that gives some impression of what these buildings might have looked like.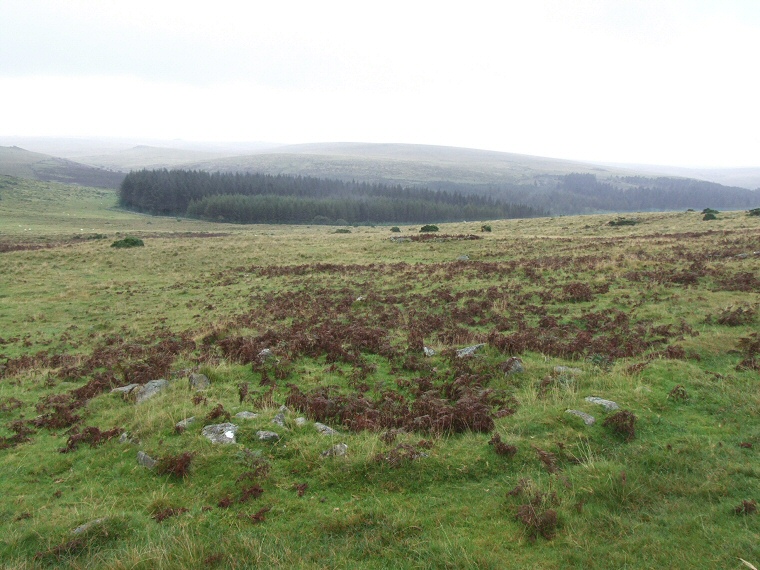 This hut circle is less well defined and could have been used for storage of meat or grain.
View looking east towards Stanlake Plantation.

Back to Map
|
Home
|
Full Glossary
|
Links
|
Email: chriscollyer@stone-circles.org.uk