Spellow Hills
Neolithic Long Barrow
Southwest of Ulceby Cross, Lincolnshire OS Map Ref TF40157221
OS Maps - Landranger 122 (Skegness & Horncastle), Explorer 274 (Skegness, Alford & Spilsby)
---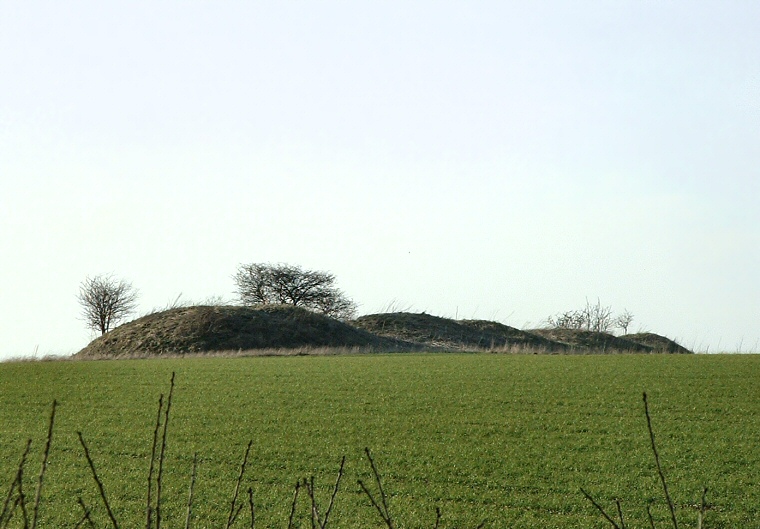 Spellow Hills, looking east across the field from beside the A16 road.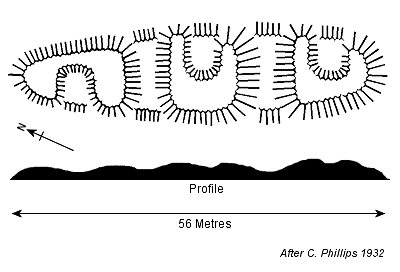 The badly damaged long barrow of Spellow Hills, or to give it its more evocative name, 'Hills of the Slain' stands at a height of 90 metres above sea-level on the side of a south facing valley. It is said that because of damage, possibly caused by people digging for treasure or the collapse of an underlying wooden mortuary structure, that the 18th century Lincolnshire antiquarian William Stukeley mistakenly thought the site to be a line of round barrows which is understandable in that it appears to consist of a series of individual mounds in the photograph above and the accompanying black and white plan.

Since Stukeley's time it has been further damaged and has lost around 12 metres from its northern end due to the ravages of the plough. Its original measurements would have been 56 metres in length and about 12 metres wide and it now reaches a height of around 2 metres at its southern end. Aerial photographs have revealed that it was enclosed by an elongated oval ditch, the whole structure lying in a south-southwest to north-northwest orientation which unlike other Neolithic long barrows in Lincolnshire traverses rather than follows the contours of the landscape.

Spellow Hills remains officially unexcavated although there are local stories of many bones being found scattered around the vicinity of the barrow in the past.

The barrow stands on private farmland and there is no access to it for the public but it can be seen across the fields on the left of the A16 from Partney to the circle at Ulceby cross. It is some distance away though and it can be difficult to see if the field is under crop.

See also: Lincolnshire Long Barrows Introduction and site list.
Back to Map | Home | Full Glossary | Links | Email: chriscollyer@stone-circles.org.uk