Stoney Littleton could be fairly renamed Muddy Littleton. When I visited, in the height of summer, I had to traverse a massive mud pit on the long trek steadily uphill along the side of farmers wheat fields. The walk was rewarded however, by what is considered to be one of the best
Neolithic
chambered long barrows
in this part of the country.
Oriented southeast to northwest, it consists of a wedge shaped mound over 30 metres long, 15 metres at its widest point and rising nearly 3 metres above the horn shaped forecourt. This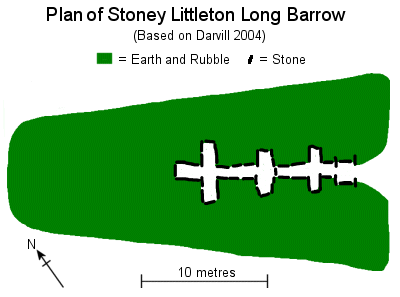 south-eastern forecourt features a fossilised ammonite impression in the left-hand door jamb (see image of entrance below), this stone obviously being specially selected for this reason, and the whole entrance is crowned by a huge lintel. As at
Belas Knap
, there is much use of fine drystone walling.
For many years recently it was not possible to enter the tomb, despite having been restored by the Victorians it being considered unsafe. Work to shore up the chambers now ensures that the visitor can examine the interior of the mound, albeit sometimes at a stoop as parts of the 16 metre passage are only just over a metre in height. On either side of this passage there are three chambers with a terminal chamber making seven in total. It is not known how many bodies were buried within the barrow, it was first opened in 1760 and pillaged in the years that followed, although it was hastily excavated in 1816 and substantial number of bones, some bearing evidence of burning, were recovered. On its restoration more that 40 years later a plaque was fixed into the forecourt walling bearing the following (inaccurate) inscription -
THIS TUMULUS - DECLARED BY COMPETENT JUDGES TO BE THE MOST PERFECT SPECIMEN OF CELTIC ANTIQUITY STILL EXISTING IN GREAT BRITAIN - HAVING BEEN MUCH INJURED BY THE LAPSE OF TIME - OR THE CARELESSNESS OF FORMER PROPRIETORS, WAS RESTORED IN 1858 BY MR T. R. JOLIFFE, THE LORD OF THE HUNDRED; THE DESIGN OF THE ORIGINAL STRUCTURE BEING PRESERVED, AS FAR AS POSSIBLE, WITH SCRUPULOUS EXACTNESS.