Hordron Edge - Moonrise Timelapse
Bronze Age Stone Circle
East of Ashopton, Derbyshire OS Map Ref SK21528685
OS Maps - Landranger 110 (Sheffield & Huddersfield), Explorer OL1 (The Peak District - Dark Peak Area)
---
If the timelapse above does not play please try this direct link.

Timelapse looking northeast towards the full moon rising behind the notch in the Fairy Stone at Hordron Edge stone circle in Derbyshire. The composition is nearly perfect but I wish I'd planned ahead and taken a source of light to illuminate the stone for the duration of the moonrise - it would also have allowed me to reduce the exposure to bring out the detail on the surface of the moon. Incidentally, it was so cold that evening that while waiting for the images to record, a bottle of water in my rucksack developed a thick layer of ice.
The video is 19 seconds long and consists of 566 images shot at 5 second intervals between 5:01pm and 5:48pm on 29th January 2010.
Main
Hordron Edge
stone circle page.
(Video hosted on Vimeo © www.stone-circles.org.uk)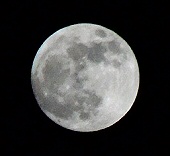 The full moon as it appeared from Hordron Edge that evening,
Back to Map | Home | Full Glossary | Links | Email: chriscollyer@stone-circles.org.uk