Wilsford 34
Neolithic Long Barrow
West of Stonehenge, Wiltshire OS Map Ref SU 1041 4119
OS Maps - Landranger 184 (Salisbury & The Plain), Explorer 130 (Salisbury & Stonehenge)
---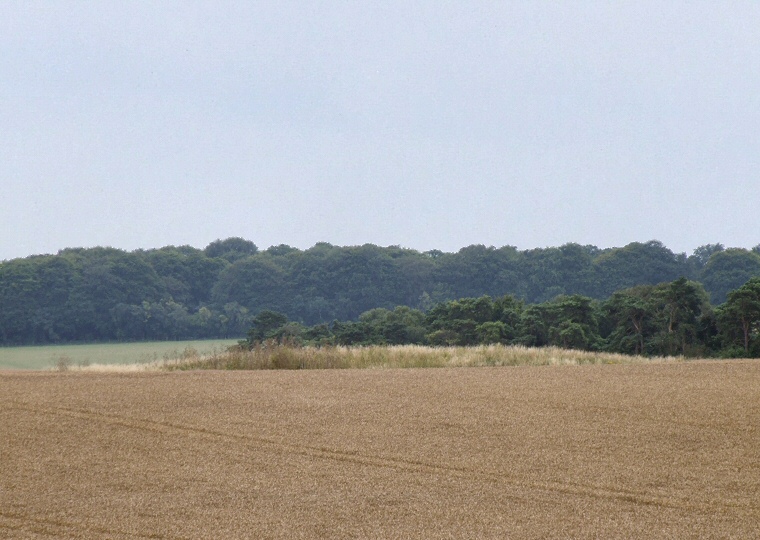 Wilsford 34 Long Barrow looking south from beside the A303 close to Long Barrow Crossroads.

This is a fairly isolated Neolithic earthen long barrow that measures about 34 metres long, 1.8 metres high and with side ditches that are partly filled with earth but are recorded as still being about half a metre deep. The mound is oriented northeast to southwest and is located just over 2 km (1.3 miles) to the southwest of Stonehenge and 500 metres southeast of the long barrow that was the founding monument of the Winterbourne Stoke barrow cemetery. Although no similar great cemetery grew up along the axis of Wilsford 34 a small group of Bronze Age round barrows was later constructed a short distance to the southeast.

Although the barrow was recorded by the antiquarian Sir Richard Colt Hoare in the early 19th century it was left unopened by him, instead being excavated by John Thurnam between 1865 and 1866. Thurnam was somewhat surprised not to find any human remains at the eastern end of the mound as might be expected in a long barrow, instead finding five burials including two children towards the western end of the mound. As these were complete skeleton rather than the disarticulated collection of bones more often found within Neolithic barrows he first interpreted these as being secondary burials of a later date, indeed one was accompanied by a Bronze Age drinking vessel or beaker.

However on examining the skulls he seemed to believe one of the burials, that of a young girl, may have actually been of a Neolithic date and could have been the primary deposit within the barrow. Interestingly a possible small whetstone shaped from micaceous sandstone was found close to the burial which Thurnam thought resembled the same rock as the Altar Stone at Stonehenge. The stone was examined by Colt Hoare's associate William Cunnington and although he agreed with Thurnam on the identification of the material he thought the stone was of a lighter colour and therefore not part of the same slab as the Altar Stone.

Together with five other Neolithic barrows and a mortuary enclosure Wilsford 34 forms a loose cluster of early monuments to the southwest of Stonehenge that predate the construction of the henge earthwork by several hundred years and the building of the stone circle itself by at least a thousand years.


Site Visits / Photographs:
July 2011.
References:
Colt Hoare, R. 1812.
The Ancient History of South Wiltshire
. London: William Miller.
Cunnington, M. 1914. List of the Long Barrows of Wiltshire.
Wiltshire Archaeological & Natural History Magazine
, 38, 405-6.
Lawson, A. 2007.
Chalkland: an archaeology of Stonehenge and its region
. Salisbury: The Hobnob Press.
Colt Hoare Number: Normanton 170, Pastscape 219699, NMR Number SU 14 SW 93.


Back to Map | Home | Full Glossary | Links | Email: chriscollyer@stone-circles.org.uk