Barbrook V
Bronze Age Ring Cairn
North of Chatsworth, Derbyshire OS Map Ref SK26967515
OS Maps - Landranger 119 (Buxton & Matlock), Explorer OL24 (The Peak District - White Peak Area)
---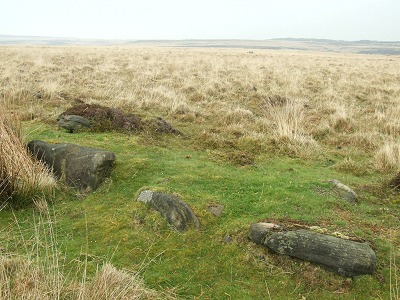 Barbrook V looking east over the remains with the outer stones to the front and the bank and inner stones just beyond.
There seems to be little information available about this site and very little to see on the ground but I have included it here for the sake of completeness. The little I know is that it is the remains of a Bronze Age ring cairn that has been badly damaged by a Medieval pack horse track that has left only a the southeastern part of the bank and a few stones remaining. Although it is a difficult site to find, the form of the bank and the stones on the inner and outer edges soon become recognisable once you get here. Because there is so little left here it is also difficult to gauge the original size of the monument although it would appear to be quite large, perhaps as big as Barbrook IV but with a slightly narrower bank.
Barbrook IV stands a short distance to the northwest of Swine Sty and on the opposite side of the Bar Brook stream to the other circles of Big Moor.
Back to Map | Home | Full Glossary | Links | Email: chriscollyer@stone-circles.org.uk