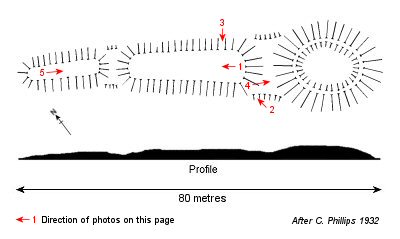 Little is known about this
long barrow
although it is one of the best preserved in the area and also the largest in Lincolnshire. Situated in a small spinney known as Beacon Plantation it dates from the
Neolithic
and was constructed as a trapezoid mound that originally measured around 78 metres in length by 19 metres at its widest point tapering off in width and height from southeast to northwest. The barrow now survives as three raised sections joined by a pair of lower 'saddles' that occur towards either end of the earthwork. The southern section consists of a circular mound that stands to a height of 2 metres with a distinct crater in its top and it is possible that this may actually be a later
Bronze Age
round barrow
that was built into the earlier long barrow. This mound is also believed to have been used as a medieval beacon (hence the name of the site) and it could be that work on building the beacon accounts for the first saddle between the mound and the rest of the barrow although it is equally possible that it is the result of the collapse of some internal structure within the barrow. Phillips* notes that burnt earth dug from the site could either be from the beacon or the result of a deliberate firing of a wooden mortuary structure in a similar fashion to some long barrows in East Yorkshire such as
Willerby Wold
. This firing and the subsequent collapse of the burnt material would certainly account for the lower level of the earth at this point. A second saddle that occurs towards the north remains unexplained but the fact that the northern section veers in a slightly more westerly direction from this point would suggest either another collapsed structure or that this section was not constructed at the same time as the rest of the barrow.
Unlike many long barrows in Lincolnshire the earthwork of Beacon Plantation traverses the contours of the landscape rather than following them but in other respects its location, standing below the crest of a high ridge that overlooks a valley (in this case of the Great Eau), is typical of the area.
Sometimes known as 'Walmsgate', this is an easy barrow to find, it is right next to the A16 between Walmsgate and White Pit and just to the south of a large layby on the southbound side of the road.
*CW Phillips - The long barrows of Lincolnshire - 1932