Burwell Wood
Bronze Age Round Barrows
Southwest of Muckton, Lincolnshire OS Map Ref TF37038073
OS Maps - Landranger 122 (Skegness & Horncastle), Explorer 282 (Lincolnshire Wolds North)
---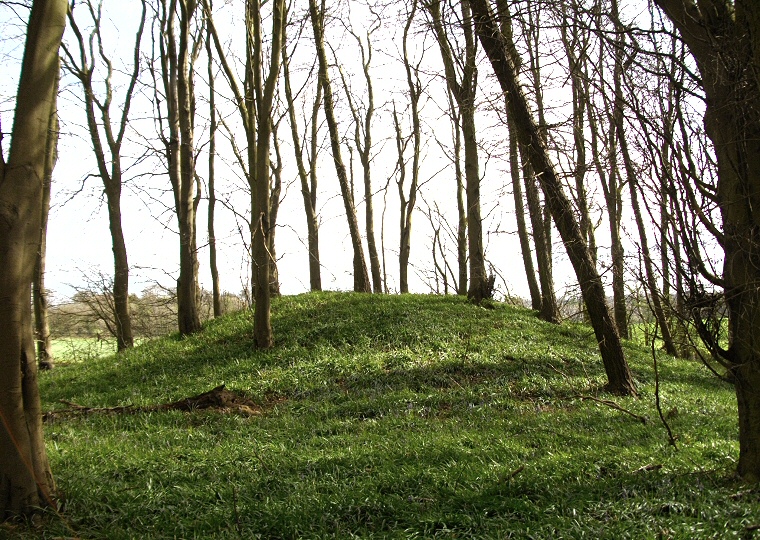 The south-eastern mound with open fields visible just beyond.
These two
round barrows
to the southwest of of the village of Muckton stand just within the south-eastern boundary of Burwell Wood. The southern barrow (shown above) is right on the edge of the trees and the boundary line of the wood actually seems to skirt round it while the other smaller barrow is a set about 15 metres away to the north (shown below).
The larger mound stands about 2 metres tall and has a diameter of about 20 metres while the northern mound is only about a metre in height and again is about 20 metres in diameter. As can be seen in the pictures both barrows have trees growing around and on them and while this will undoubtedly have caused disturbance to the structure of the barrows and possibly any buried remains it could be argued that the presence of the wood has guarded the barrows against the action of ploughing that has destroyed so many other sites.
The barrows do not seem to be related to any other obvious prehistoric activity, the linear cemetery of
Bully Hills
is over 4km to the northwest while the earlier
long barrow
in
Beacon Plantation
is 3km to the south, however they stand about 400 metres away from a step but mostly dry valley that would have fed into the Great Eau river and close to a modern footpath that leads from Burwell to Muckton. It could be that this footpath follows the course of a prehistoric trackway perhaps linking into the Bluestone Heath Road trackway or the trackway that may have followed a route along the spine of the Lincolnshire Wolds from the Louth area southeast towards the coast, currently the course of the A16 and A1028 roads.
Date:
Bronze Age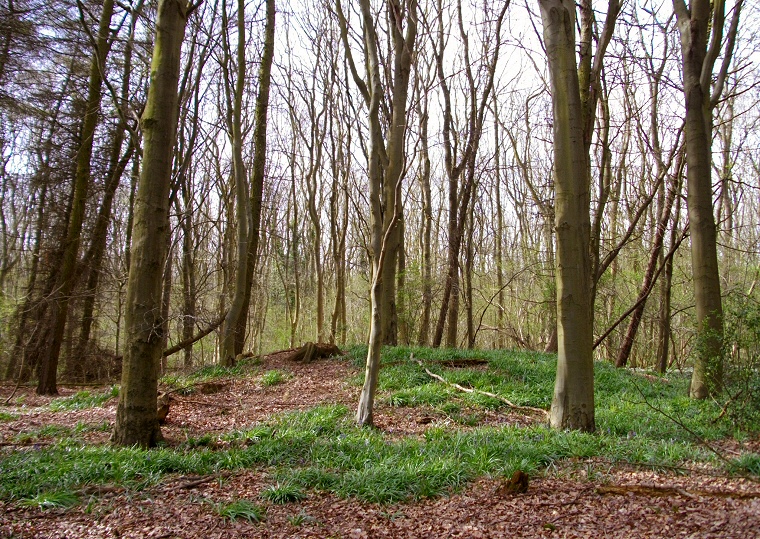 The north-western mound is set slightly further into the woods.
Back to Map | Home | Full Glossary | Links | Email: chriscollyer@stone-circles.org.uk