East Heslerton
Neolithic Long Barrow
Southwest of Sherburn, North Yorkshire. Elevation: 165M OSD OS Map Ref SE93827523
OS Maps - Landranger 101 (Scarborough), Explorer 300 (Howardian Hills & Malton)
---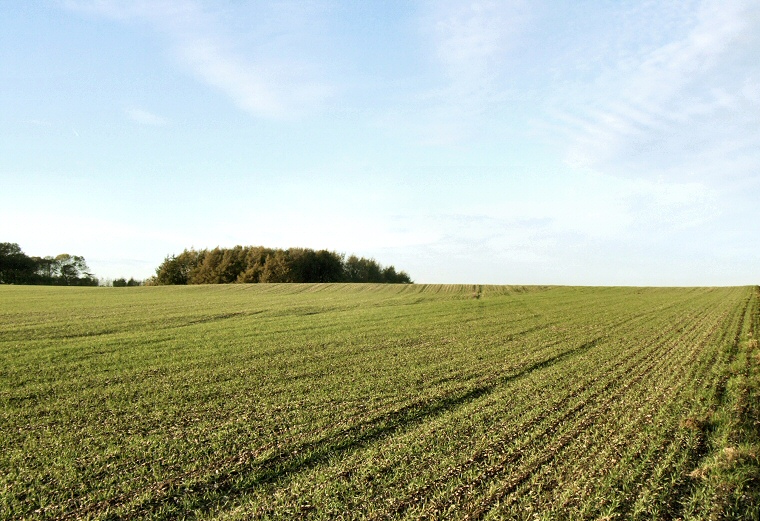 East Heslerton long barrow - looking north over the western end of the barrow visible as the slight swelling on the top of the ridge where the plough lines change direction.
The long barrow at East Heslerton is one of a dispersed line of prehistoric monuments that lie close to the northern edge of the Yorkshire Wolds just before the land falls away dramatically into the valley of the Rivers Derwent and Hertford. Further east is the Ganton group of round barrows and the mixed barrow group at Willerby Wold that includes both a long barrow and round barrows. East Heslerton is also a mixed group but it is the Neolithic long barrow that will be addressed here.

As is usual with the long barrows of the area there remains little to see of the barrow mound which is shame as at 140 metres in length this is the second longest such monument in the country. It has also suffered by having a hedge planted across the middle of it (located just to the right of the photograph above) which has effectively divided the mound into two sections, the western end is the better preserved and stands over a metre in height and between 20-25 metres wide. The eastern section has been damaged by chalk quarrying and is difficult to make out on the ground but according to English Heritage this part of the mound stands to a maximum height of a metre tall by 20 metres wide, the whole barrow being oriented west-southwest by east-northeast.

The eastern section of barrow was excavated in 1962 by Faith and Lance Vatcher who as well as recording a 7 metre wide flanking ditch also discovered remains of burnt and unburnt wooden posts that formed a rectangular enclosure with a concave eastern end. This is very similar to the feature found at Willerby Wold long barrow and interpreted as a 'mortuary structure' that was fired to mark the final closing of the barrow. Because of plough damage they failed to locate any human remains although the antiquarian Canon Greenwell reported a large number of burnt and broken bones being found here in the 19th century.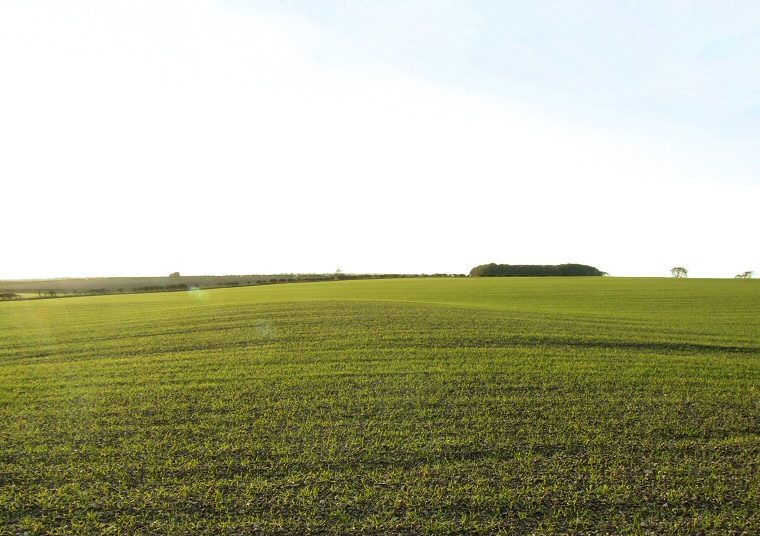 East Heslerton long barrow - looking roughly west over the western end of the barrow.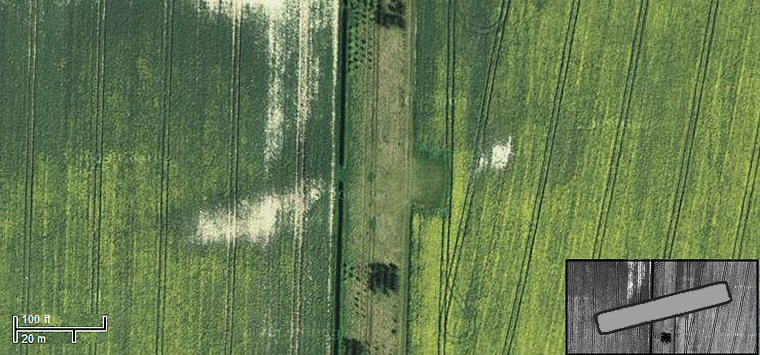 Google satellite image of the long barrow with original extent of barrow show inset.
Back to Map | Home | Full Glossary | Links | Email: chriscollyer@stone-circles.org.uk