Eyam Moor III
Bronze Age Stone Circle
Northwest of Grindleford, Derbyshire OS Map Ref SK23237881
OS Maps - Landranger 119 (Buxton & Matlock), Explorer OL24 (The Peak District - White Peak Area)
---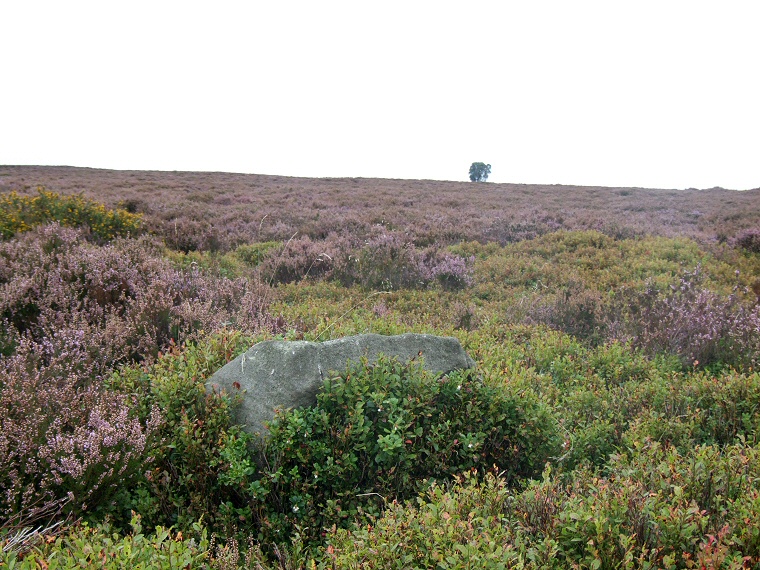 Eyam Moor III stone circle - looking westwards over one of the stones.
Eyam Moor III stone circle is one of three such surviving Bronze Age monuments on the moor but unlike Wet Withens and Eyam Moor II this circle is not set within an earth and rubble bank.

It consists of six free-standing stones, two of which are now fallen, that remain from the nine stones recorded in the 19th century - whether there were originally more is unknown but probably unlikely. They form a circle about 13 metres in diameter with heights ranging from a quarter of a metre to about a metre high. Within the circle there is a large oval cairn measuring about 8 metres by 6 metres that has a deep trench cut into it, probably the result of antiquarian excavations within the last 200-300 years.

Unlike Wet Withens which stands on a western slope both Eyam Moor III and Eyam Moor II stand on a gentle eastern slope that leads down towards the valley of the River Derwent and Burbage Brook with the rock outcrop of Higger Tor beyond. When I visited in late summer the stones were nearly totally overgrown and it was difficult to make out the structure of the circle - as can be seen from the photographs on this page.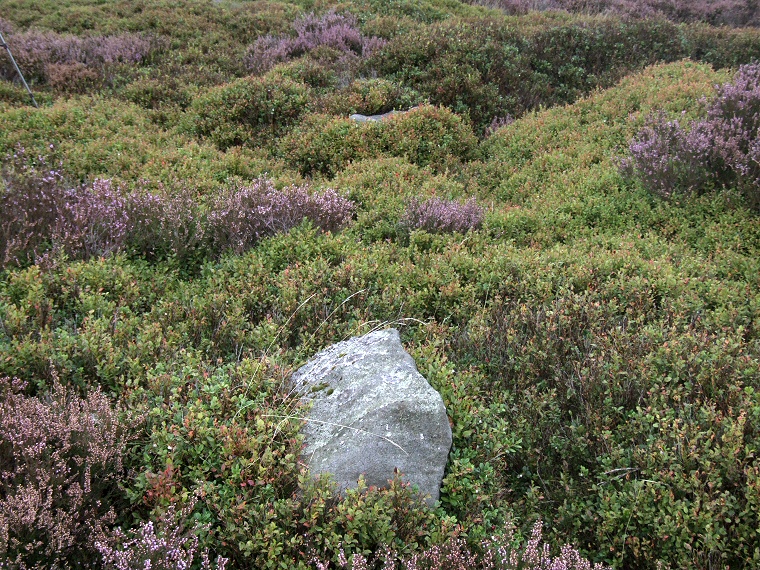 Two of the stones of the circle, the top one is almost buried in heather and bilberry
Back to Map | Home | Full Glossary | Links | Email: chriscollyer@stone-circles.org.uk