Gardom's Edge Round House
Bronze Age / Iron Age Round House
East of Baslow, Derbyshire OS Map Ref SK 2747173090
OS Maps - Landranger 119 (Buxton & Matlock), Explorer OL24 (The Peak District - White Peak Area)
---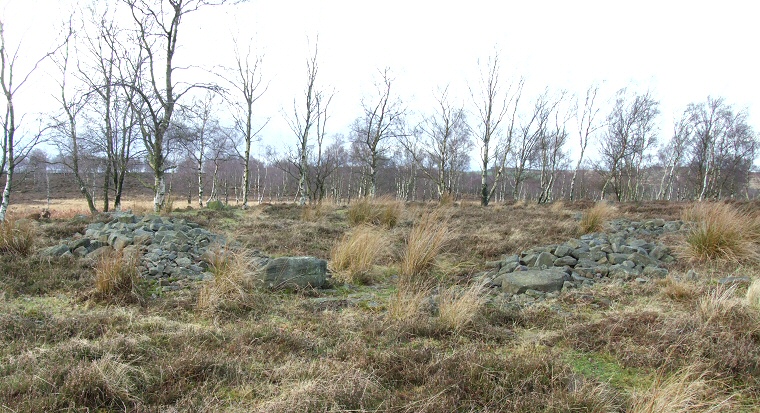 Looking through the entrance of the reconstructed round house on Gardom's Edge.
There are between twenty and thirty recognised hut or round house structures on the area behind Gardom's Edge and this site was excavated and partially reconstructed in the late 1990's, it is thought to date from the late
Bronze Age
or early
Iron Age
.
The remains that can be seen today would seem to be an encircling bank of boulders with an entrance to the southeast marked by a pair of much larger boulders with a pavement of smaller cobbles between them. This would have framed the entrance to a large wooden round house built of timber posts with wattle and daub walling and a thatched roof of bracken or heather. Close to the entrance a small pit was found which contained burnt bone while towards the centre of the building excavators found a pit set within a circle of stake holes containing burnt stones, more burnt bone as well a a piece of lead (possibly form a torc). Originally thought to be a hearth it was later concluded that the pit had been re-cut several times and was in fact related to a cremated burial practice.
The round house was built on a small natural rise about half way between the Gardom's Edge and the northern end of Birchen Edge over which it offers fine views while the land drops away gently to the north and south - this building must have been a prominent man-made feature of the area.
For an idea of what the original building may have looked like see the pictures of fully reconstructed round houses on the
Flag Fen
page.
See also other Gardom's Edge sites:
Carved Rock
,
Enclosure (Meg's Wall)
,
Pit Alignment
Ring Cairn
,
Standing Stone
,
Three Men of Gardom's
Back to Map | Home | Full Glossary | Links | Email: chriscollyer@stone-circles.org.uk