Greenwick
Bronze Age Round Barrow
Southwest of Fridaythorpe, East Riding of Yorkshire OS Map Ref SE84105684
OS Maps - Landranger 106 (Market Weighton), Explorer 294 (Market Weighton & Yorkshire Wolds Central)
---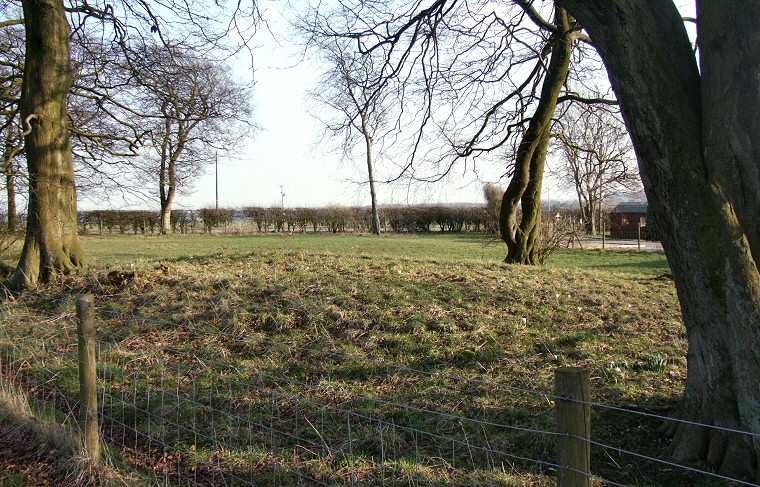 Round barrow in the grounds of Greenwick Cottage.
There is little or no information about this
round barrow
, in Mortimer's 1905 plan of the area he marks a pair of barrows at this approximate location with a question mark (and as
A
and
B
in a line drawing) but gives no further mention of either and presumably left them unexcavated.
Only one barrow now seems to remain and the scheduling information at least gives its dimensions as 18 metres diameter and 0.7 metres in height but beyond that the mound is a mystery. It stands on private land at the northern edge of Greenwick Cottage next to a minor road not far from the main A166 which marks the course of a Roman road that very probably followed the route of a prehistoric trackway from the Vale of York over the Wolds and towards the coast. Further to the west this trackway was bounded by the barrows of the
Garrowby Wold
group and it could be that this barrow is an outlying member of that group although it also stands a short distance to the northeast of the barrows at
Callis Wold
, while Mortimer himself puts it at the western extremity of his Huggate Wold group.
Date:
Bronze Age


References:
Mortimer, J.R. 1905.
Forty Years Researches in British and Saxon Burial Mounds of East Yorkshire
. London: Brown & Sons.
Pastscape: 61681, NMR Number: SE 85 NW 27, Record of Scheduled Monuments: HU/61.


Back to Map | Home | Full Glossary | Links | Email: chriscollyer@stone-circles.org.uk