The Growing Stone
Neolithic / Bronze Age Standing Stone
Cwrt-y-Gollen, Powys OS Map Ref SO233168
OS Maps - Landranger 161 (The Black Mountains), Explorer OL13 (Brecon Beacons National Park - Eastern Area)
---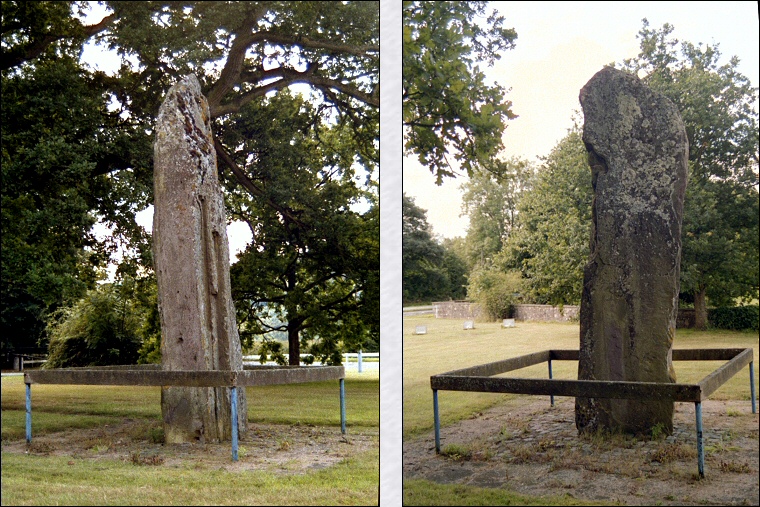 Two views of the Cwrt y Gollen Monolith - The Growing Stone.
This fractured red sandstone monolith is around 4 metres tall and has a rectangular section measuring about 70cm by 120cm. It is shorter than, but similar in shape to, the stones of the
Devil's Arrows
in Yorkshire.
Also known as Cwrt y Gollen Monolith it must be the largest stone in an area rich in similar standing stones and is probably the most easy to find and visit although the land it stands on was once an Army Cadet camp and controlled by the Ministry Of Defence, it would now seem that the military have abandoned the base.
The site is next to the A40 road from Abergavenny to Crickhowell and is close to the remains of
Gwernvale
chambered long barrow. The road itself follows the the valley bottom of the River Usk with the hills of the Black Mountains to the north and the eastern edge of the Brecon Beacons to the south and must always have been an important route through the hills which probably accounts for this stone's position here - was it some kind of
Neolithic
or
Bronze Age
way marker? Later during the Roman period this route was formalized as the Roman road of Via Julia.
Back to Map | Home | Full Glossary | Links | Email: chriscollyer@stone-circles.org.uk