Gwytherin Four Stones
Bronze Age (?) Stone Alignment and Inscribed Stone
Gwytherin Church Yard, Clwyd OS Map Ref SH877615
OS Maps - Landranger 116 (Denbigh & Colwyn Bay), Explorer OL17 (Snowdon)
---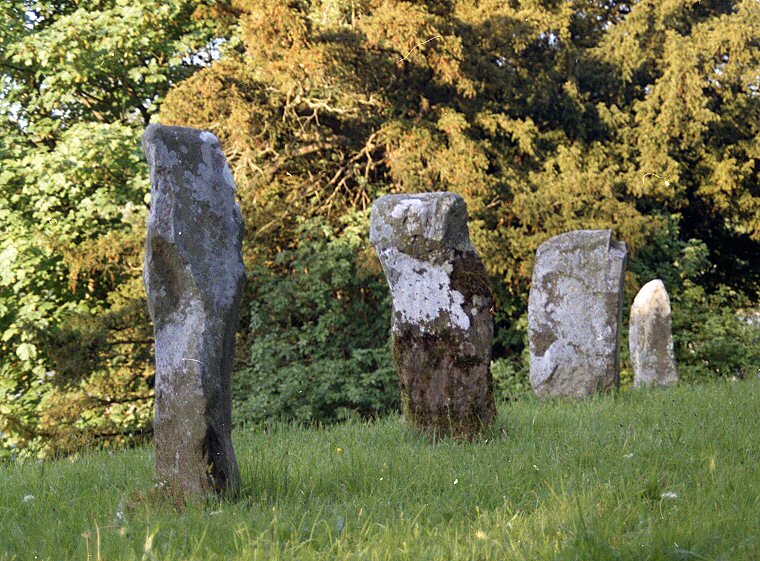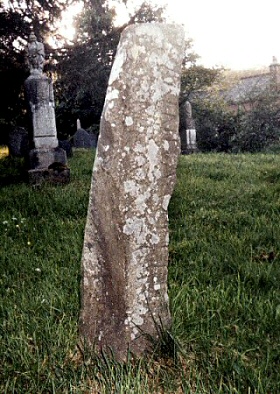 Gwytherin is a beautiful village situated in a valley that serves as the confluence of the river Afon Cledwen with the many streams that flow down from the hillsides. Within the village is the churchyard of St. Winnifred, and within the raised mound of this churchyard is an alignment of four stones that probably date from the Bronze Age.

None of these stones are large, and they stand very close together compared to many such alignments - in this case less than 3 metres apart. They must however have held much power and were probably a meeting place and a place of ritual for the local population and as such were a source of concern for the early Christian missionaries. To try to diffuse some of this power but not to alienate the locals, the site may have been 'Christianised' by the founding of a church - St. Eleni. (See also the monolith in Rudston churchyard and the church built within a henge at Knowlton). At some point this church was rebuilt and renamed St. James and later in 1869 it was again rebuilt and this time rededicated to St. Winnifred.

There seems to be some confusion over a Dark Ages inscription on one of the four stones (image left), the lettering can be read as 'WINNE', and could be the cause of the name change of the church. Legend would seem to support this, as it is said that St. Winnifred (originally Gwenfrewi) was the Abbess of a convent here in the 7th century and that this is the site of her original tomb. The confusion arises however as the inscription on the stone actually reads - 'VINNEMAGLI FILI SENEMAGLI' which can be translated as '(The stone) of Vinnemaglus, son of Senemaglus'.

It has also possible that the Latin carving was placed over an earlier Ogham inscription.
Back to Map | Home | Full Glossary | Links | Email: chriscollyer@stone-circles.org.uk