Men-an-Tol
Neolithic Standing Stones and Portal Stone
Northwest of Penzance, Cornwall OS Map Ref SW426349
OS Maps - Landranger 203 (Land's End & Isles of Scilly), Explorer 102 (Land's End)
---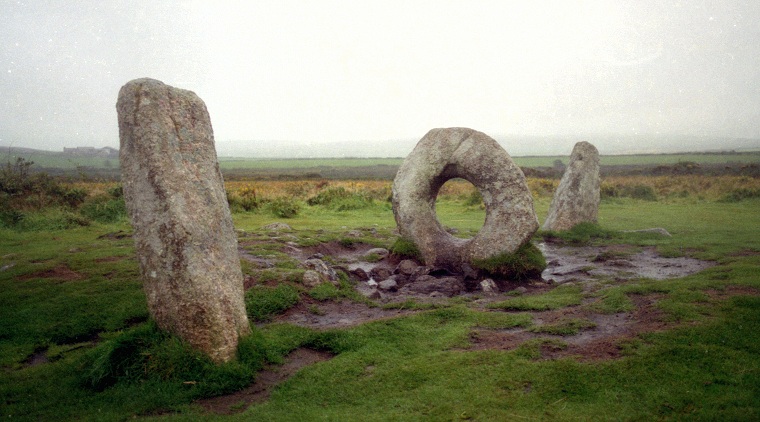 A murky day at the Men-an-Tol in early September 1997, looking roughly south-east
The Men-an-Tol (meaning 'stone of the hole') stands close to Lanyon Quoit and Chun Quoit some distance from the road from Madron to Morvah.

The two uprights and the holed stone may be the remains of a local Neolithic chambered tomb which may have incorporated the circular stone as an entrance, perhaps as a symbolic link between this life and a possible afterlife. Alternatively, the uprights may have formed part of a stone circle at one time, and the holed stone was brought in from elsewhere at some more recent date.

The holed stone was known in the past as the Devil's Eye and was the source of many local legends, citing its healing properties for those who would pass through it, especially children who are said to have been cured of rickets.
Back to Map | Home | Full Glossary | Links | Email: chriscollyer@stone-circles.org.uk