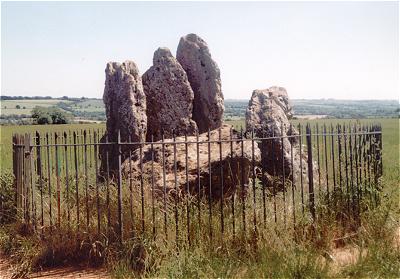 The Whispering Knights

Rollright consists of 3 main sites standing on the Warwickshire / Oxfordshire border which are thought to date from as early as 3800BC to as late as 1500BC - The King's Men, the King Stone and the Whispering Knights.

King's Men
77 stones in a small 31 metre stone circle of heavily weathered and eroded limestone with possibly an entrance to the north. This is the only circle in this area and although attractive, has always appeared to me to have some kind of sinister aspect to it. It is believed to date from the late Neolithic to early Bronze Age period of 2500-2000BC.

King Stone
This 2.5 metre stone stands on the other side of the road to the north in Warwickshire and may have originally been either an outlier for the circle or a marker for a Bronze Age cairn and round barrow that stand nearby to the northeast. It seems probable that the King Stone is the youngest of the monuments at Rollright.

Whispering Knights
A burial chamber in a farmers field to the SE of the circle with 4 remaining uprights and a fallen capstone. It would once have been covered by a stone and rubble cairn, traces of which were found during excavations in the 1980's. This is the oldest monument at the site with a suggested construction date of 3800-3000BC.

There are many legends attached to this site, one local tale claims that it is a king and his army turned to stone by a witch. Sybil Marshall recounts the tale in her book 'English Folk Tales', thus -

A local king was travelling across Oxfordshire with his 5 knights and soldiers. Suddenly he was challenged by an old woman who asked of his business, to which he replied 'To conquer England , and rule it as one kingdom'. To this she said -

'Seven long strides more take thee,
And if Long Compton thou canst see,
King of all England thou shalt be'

The king replied to her challenge:

'Stick, stock and stone,
As King of England I shall be known'

In doing so, he took 7 mighty strides, but found his view obscured by a mound of earth, the witch now crying aloud-

'Because Long Compton thou canst not see,
King of England thou shalt not be.
Rise up stick, and stand still stone,
King of England thou shalt be none.
Thee and thy men hoar stone shall be,
And I myself an eldern tree'

The king and his men were frozen to stone, and remain there to this day. Another story, common to many circles and burial chambers says that the stones cannot be counted, that they go down to the river to drink at midnight, or on New Year's Day, and that if they are removed they will return to their original positions.

Dances and feasts used to be held near the King Stone on Midsummer's Eve, and the site still appears to be popular with those of a Pagan persuasion, on one visit a few days after the summer solstice some of the stones showed signs of red candle wax, and trees nearby were be-decked with offerings. Whatever your views on such things, Rollright is well worth a visit, standing as it does close to the Roman Fosse Way and the beautiful Cotswold town of Stow on the Wold.